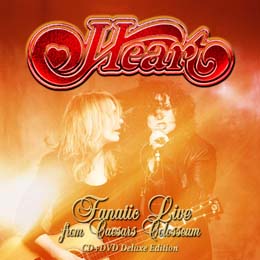 Album Title:
Fanatic Live From Caesars Colosseum
Release Date:
Friday, February 21, 2014
If you ask me, Heart was at their height in the late 80ies, early nineties, when they got massive radio airplay, not only stateside, but even in Europe.  They scored massive hits at that time,like 'Alone', 'These Dreams' and other songs.
Although I admit I liked them at that time, no, some twenty odd years later, the songs still sound very familiar, but have lost some of their appeal.  And upon listening to this live album, I didn't have the chance to look at the DVD or blu ray, it's obvious why. While a song like 'Barracuda' had some crunch to it, the other, better known songs, are way to commercial sounding, this was probably intended, but I guess over the years I have become more selective in what I like to listen to, and these, twelve in a dozen songs, are no longer part of that.
Fans of this genre, might be seduced to go out and buy it, but I'll leave it up to a few spinnings in my player, and say goodbye.