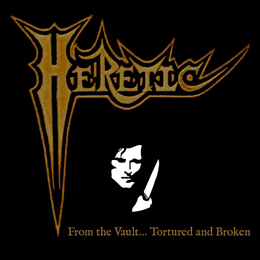 Album Title:
From The Vault... Tortured And Broken
At the Encyclopaedia Metallum (aka (www. metal-archives.com) you will find no less than 12 bands listed by this bandname, including Death Metal acts from White Russia (released 2000 promo, no news on the band's current activities), Germany (active since 2007, release only an EP thus far), Mexico (also known as Heretic MX, started in 2011 and released their debut full-length this very year), Poland (no longer in existence, left us a 1992 demo and a 1993 EP), the UK (active since 2003 when they released their only demo – changed names to Ancient Ascendant in 2005, which is still active today), and the US (from California, the band started in 2003 and left us a 2004 demo...not to be heard of after). But there's also a Black Metal act (turned "Black 'n' Roll later) from Holland (active since 1995, they have a shit-load of releases to their name in the form of early demos, split releases, 4 full-lengths, a live one and a compilation), an Epic Power/ Doom Metal act from Canada (started in 1996, left us two demos and a 2003 full-length, and are no longer in existence), a Thrash/ Groove Metal/ Hardcore act from Slovenia (formed in 2005 and still active, delivered a 2008 EP and a 2012 full-length so far), a Hard Rock/ NWoBHM act from the UK (long since split up, only left us a 1983 demo and 1984 EP), and a Thrash Metal act from the UK (Holloway, Derbyshire; founded in 2001 and still active, delivered 2 demos and a 2007 EP so far)...but the Heretic at hand here, is the Power/ Thrash Metal act from Las Vegas!
Forming in 1985, the band had a first run which lasted until 1988. the guys signed onto Metal Blade before even recording anything on their own, and made their recorded debut with the 1986 EP Torture Knows No Boundary (also known as Don't Turn Your Back) with a line-up consisting of singer Julian Mendez, guitarists Bobby Marquez and Brian Korban, bassist Dennis O'Hara and drummer Rick Merrick, but for the track "Impulse", which was released on the label's Metal Massacre VII compilation album of 1986, the vocals were done by the band's original singer Mike Torres (also known as Mike Towers, or Mike Torrez). In 1987 Mendez was subsequently replaced by Mike Howe, whom contributed to the 1988 album Breaking Point, and whom would leave the band (leading to its demise) that same year to join Metal Church. More cross reference to the latter band would occur, when later Korban and O'Hara joined singer David Wayne to form the band Reverend. Metal Blade re-issued Heretic's EP and full-length on a compilation album entitled Don't Turn Your Back!! & Breaking Point (apparently with the Metal Massacre compilation album's track as a bonus). Heretic was re-formed in 2011 with Mendez and Korban as only remaining original members, the other functions in the band being taken by guitarist Glenn Rogers, bassist Angelo Espino, and drummer Ignazio Iggy Coppola. The new line-up went on to release the July 2012 album A Time Of Crisis on the Metal On Metal Records imprint.
This new compilation album is in fact a double-disc re-issue of the 1991 compilation, with some differences. The first CD includes the Breaking Point album in a re-mastered version, and features 4 bonus tracks. Besides the aforementioned "Impulse", you also get 1986 live versions of the songs "Riding With The Angels" (originally by Australian Hard Rockers Angel City, it was also featured on the EP), "Portrait Of Faith" (off the EP) and a cover of AC/DC's "Let There Be Rock" - all with singing done by Mike Howe. Disc two starts off with a re-mastered version of the Torture Knows No Boundary (aka Don't Turn Your Back) EP, and is enhanced with no less than 9 bonus tracks, including the original version of "Impulse", a 2012 recording of the EP's track "Blood Will Tell", and 7 live tracks recorded in 1985 with Mike Torres singing 2 songs that would end up on the full-length, 4 songs which were never recorded in studio, and a cover of Steppenwolf's classic "Born To Be Wild".
As it turns out, there's also a DVD featuring two live shows from Dec; 1985 (11 tracks recorded @ Country Club, where hey were introduced by Lizzy Borden) and 1986 (another 10 tracks filmed @ Jezebels, where they were support act for Megadeth), and video clip for the track "Let 'Em Bleed" (song off the Boiling Point album)...but I ain't sure whether that's not reserved for a limited edition of this re-issue, or standard part of it. Whether the money spent is worth the material at hand will depend on a couple of things, first of all whether one already hàs the original albums or not, and if that the case be, whether one feels the live extras are worth it! By the way, the live unreleased tracks, they were apparently culled from the soundtrack from the video footage!?