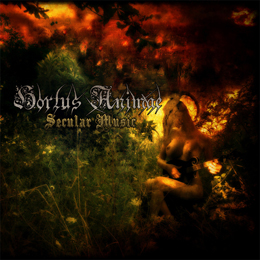 With the release of Secular Music through hystoric British record label Flicknife (think of Hawkwind!), the Italian Progressive/ Gothic Black Metal act Hortus Animae effectively ends a near 9-year hiatus of studio releases.
True enough, since the release of their previous album, The Blow Of Furious Winds (issued on Sept. 15, 2005 through the Greek Sleaszy Records), and the band's official break-up in January, 2006, there hàve been two compilation albums; firstly, there was Funeral Nation/ 10 Years Of Hortus Animae, issued in Nov. 2008, a box set which comprised the band's first two official albums as well well as a DVD and several gadgets; then, because the box set was a limited affair which sold out quite swiftly, and demand from the Underground demanded it, the band teamed up with American label Thrash Corner Records, for the April 2012 release of their definite anthology (including also the band's first self-released 2000 album The Melting Idols) on the two-disc Funeral Nation MMXII. But hey...we're talking about the break-up period of the band here...let's turn back the clock somewhat, and look back at what started it all!
Hailing from Rimini, the band was founded in 1997 by singer (and then also bassist) Martyr Lucifer (whom, by now can also count tenures with Opposite Sides and Sabnack to his curriculum vitae, had a solo outing, and is currently also still a member of Space Mirrors), guitarist/ keyboardist Lorenzo Bartolini (left in 1999), guitarist/ backing vocalist Claudio Caselli (departed in 1998), keyboardist/ violinist/ female vocalist Eleonora Valmaggi (stayed on until 2000) and drummer/ backing singer Thomas Ghirardelli (formerly of Entity and Carnality, he was the one original member to side with the singer the longest, leaving only in 2001). That original line-up (minus Caselli, I guess, as one Scorpios did session guitar) recorded and released the band's 1998 demo An Abode For Spirit And Flesh. Actually, by then keyboardist/ backing singer Bless, whom has a rather long cv, including tenures with Morgan The Bard, Martyr Lucifer, his own Nashville, and Space Mirrors (mind the interesting cross-contaminations, there?), and guitarist Hypnos (also know from Opposite Sides and Sabnack) had by then joined the band. The demo hit the specialized press with only few reviews rating it as less than "excellent", and ensured the band the beginning of an ever-growing fanbase.
In 2000, the band is joined by second guitarist Karnal (known also from Carnality, Dementia Senex, and Opposite Sides) and I guess that it's with him that the self-released 2000 full-length The Melting Idols is recorded. In the following years though, the position of second guitarist would be overtaken by Iarsa (during 2001 and the first part o 2002), Arke (of Opposite Sides, Space Mirrors, and Martyr Lucifer repute, during 2002), before the band settled on Amon 418 (known also from Barato, Hate Profile, and Space Mirrors). On the drums, the renowned Grom (known from Doomsword and Ancient, but also from Psychofagist, Defixio, Martyr Lucifer, Hate Profile, Alice In Darkland, Testing Tomorrow, Andark and The K – and yet again, some interesting cross-contaminations, eh!?). Anyway, having released their debut full-length, Hortus Animae began an active attack on the North-Italian venues, managing at some point to support the likes of Lacuna Coil, Konkhra, Napalm Death, and Ancient, and it's while opening for the latter cult Norwegian Black Metal act in Padova, that the band developed the friendship with their drummer GroM (real name Diego Meraviglia, by the way!), whom then made HA his prime side-project out of admiration of their work.
By then, the band had already developed a certain Cult reputation throughout the Italian Extreme Metal Underground scene, partly due to their unique and eclectic blending of styles and instrumentation (with influences from '70s Prog Rock as well as Gothic, Classical and Ambient being added to the Death/ Black undertones, instruments such as piano, violin, viola, mandolin and synth, and making use of very diverse vocal stylings, the band was truly a rarity in the scene of those days), partly due to the band's playing of selected cover songs and of course certainly also due to Grom's joining...and eventually the Greek Black Lotus Records contacted the band for the release of their March 2003 label debut Waltzing Mephisto (which would sport a cover of Mayhem's "Freezing Moon", blended with Mike Oldfield's "Tubular Bells (The Exorcist)", as well as a cover of Italian '70s Prog band Il Baletto Di Bronzo's "Terzo Incontro"). The label also released the 2004 two-track single Windfall Introducing Summoning Of The Muse, the lead track of which had already been issued on the compilation album The Lotus Eaters: Tribute To Dead Can Dance, and which featured Liv Christine (of Atrocity, Leave's Eyes and Theatre Of Tears fame) on lead vocals.
As music journalists active in that period will now, Black Lotus didn't fare well, and eventually folded. HA were however swiftly cont(r)acted by another Greek label, Sleaszy Rider Records, who released HA's sophomore official album The Blow Of Furious Winds (which again contained a cover in a rather original blending of Queen's "The Fairy Feller's Masterstroke" and "Nevermore") in Sept. 2005. That year, HA came out Best Emerging Band and Best Italian Album Of The Year in the polls of Italy's top magazine Metal Maniac. For live purposes (when it was impossible for GroM to perform due to other obligations), the band hired one Claudio Tirincanti (known also from his live session work with Blaze Bayley, Tim Owens and Bull-Riff Stampede, and band collaborations Space Mirrors, Raven Lord and Opposite Sides – and again, those interesting cross-contaminations, eh!?) during 2005. But all was not that well within the band, and on January 18, 2006 they announced a break-up, at least an hiatus, due to "...technical and personal reasons involved (the music industry, hardships...life itself)..."
During the hiatus, the band members occupied themselves with several side-projects, in fact if one thing can be said, it's that they were far from inactive! Martyr Lucifer started his collaboration with the international Space Rock act Space Mirrors (their first album featuring him was 2008's Majestic-12: A Hidden Presence, issued through Sleazsy Rider), and he and Amon were also part of Opposite Sides (whose 2009 album Soul Mechanics was released through Mondongo Canibale; their debut demo, The Eclipse Of Existence, had been released in 2004). Bless, through his band Nashville, released the Voices Inside My Head: An Acoustic Tribute To The Police album in 2010. In 2011 then, Martyr Lucifer teamed up some of his HA members and international artists Adrian Erlandson (At The Gates, Paradise Lost) and Vrolok (formerly of Nokturnal Mortum) for his first solo output (under his own name) Farewell To Graveland (which was released through Buil2Kill), and that same year a split single between Space Mirrors and Acid FM was released on 7-inch vinyl by Monster Fuzz. Space Mirrors came back in 2012 with the full-length In Darkness They Whisper (released through Transubtrans), and Bless released Haul In The Nets with his renewed Nashville & Backbones.
The band broke several years of silence on January 25, 2013, stating not only that the time for a comeback was ripe, but also that they (Martyr Lucifer, Hypnos, Bless and Grom) were already working on a new album, with the working title At The End Of Doomsday (after one of the songs), which was to be recorded under productional guidance from Simone Mularoni (of DGM and empYrios fame), the latter also taking over session duties on the bass. It's this album, under the eventual title of Secular Music, which we now give our attention...but not, before mentioning that also in 2013, Martyr Lucifer released his second solo album Shards (released trough Outlinerekordz), and Space Mirrors (now also with Bless on the keyboards) released (still on Transubtrans) the album Cosmic Horror II: The Other Gods. Last little details: 1) in early 2014, the band's line-up was altered to include Adamant on bass, MG Desmadre (of Chronos Zero and Crawling Chaos) on the second guitar, and Ecnerual on violin. 2) on the same date as their comeback album, HA will also have the two-disc compilation album The Godless Years, with rare and unreleased material issued through Satanica Productions. (parts of the article above are based upon and re-written from the band's page on Wikipedia)
Which, finally, brings us to the material at hand, and an impossible job to describe the band's music in either nothing but generalities, or by going into detail song-per-song. Rather than doin' either (the first being unfulfilling, the second taking too long), I'd like to re-direct the reader (whose interest is by now either aroused, or contrarily subdued) to the band's Facebook page (www.) facebook.com/HortisAnimae where, in the "Band Profile" section, one can listen to several audio tracks (only "God And His Disgusting Children" spawning from the album at hand) as well as view some videos (some of them mere lyric videos) For additional videos, check also the "YouTube" section.
Just one more detail about the album itself: it ends with a glorious cover (in part faithful to the original, in part adapted to HA's sublime style) of Jethro Tull's "Aqualung". As for this review, it ends with my nomination (in retro-activity) of Secular Music into my 2014 year-lists!