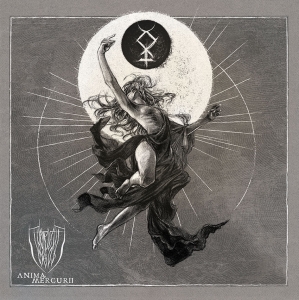 Release Date:
Thursday, January 21, 2016
Incipient Chaos are an act from Nantes, France, formed somewhere in 2014. That very same year, they recorded and released a first EP, called Sulphur, which was based on the first alchemic presentation of sulphur, represented through symbolisation aspects like Earth and Fire, Spirit and Man (the masculine representation of humans). It was, just for your information, released in Summer 2014 via their own sources (digital) and Mortis Humanae Productions (physical edition). Now this band returns with a second EP, which represents the whiter part, via Mercurius, as the feminine moon-like entity, Water and Air, Light giving shape and structure to formless matter. It's quite opposite to the first chapter, yet purely complementary and inseparably connected to each other.
This second chapter was recorded and mixed at the Darkened Studio, and the four compositions clock twenty-three minutes. It gets released via France's Antiq (a label run by the frontman of Hanternoz), and for the interested ones: I did reviews for two other releases on this label's roster a while ago: Earth by Chained (published on March 21st 2017) and Le Noir Village by Créatures (see update March 29th 2017) (or enter a name in 'search').
Despite the spiritual / metaphysical / feminine approach of this second chapter, I promise you that you won't find that tranquillity you might expect, seen (heard) from sonic side. On the contrary indeed! Anima Mercurii turns out to be quite an impressive and paroxysmal outburst, meant to be a canalisation of those themes of enlightenment and relief. Gathered under four titles, the EP brings forth massive outbursts of monumental, somewhat timeless Black Metal, with a splendid production. The sound is quite dense and suppressing, but it surely strengthens the occult atmosphere, almost in a Post-Black oriented way. It comes, at the same time, with a great mix – enjoy those fabulous bass lines, so extant, or the different, modestly interacting guitar levels, with their hypnotising craft.
There is a lot to experience as well, when dissecting the objective aspects: tempo (often quite doomy, then again blasting in a 'taking-no-prisoners' way), song structure (the compositions breathe so much more than anger or hatred, resulting in spheres greater, and higher, than the tradition) – yet still the basic lines are so strongly rooted in the origin of the scene. The whole EP is like a cohesive adventure, like a story of coherent chapters resulting in a mental journey through cosmic dimensions, and it never bores one single moment. I even dare to refer to the earlier recordings of Panchrysia, for those trusted with that Belgian act (beware: they are not alike-sounding; I am referring to the knowledge of composing and the overall atmosphere).
Which brings me, quite easily, to this summary: once again Antiq Records release a grandiose album that trespasses the average mediocrity of the temporary scene. And hey, I did not mention it yet, but that cover artwork (as well as the sober artwork in general, collected in this digipack): no idea who did create it, but it's truly a caress for the eye!
There will be a third chapter (soon, I hope), reuniting the extremes of both metaphysical / alchemic principles, focusing on the 'red' side (the male one represents black, the female, what this EP stands for, white), but I haven't heard anything about when – where – who. But this philosophical summary, I'm sure, will be at least as intriguing as both first EP's. Something to look forward to…