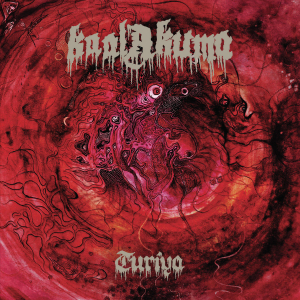 If you would ask me to sum up some bands or projects from Bangladesh, I have to admit that I'll have to stop at / after two hands full. I reviewed material for acts like, for example, Chronicles, Barzak or Morbidity in the past, and I do also have stuff from bands like Azooma, Xarkrinur, Necrolepsy or Orobos, but I'm afraid this 'list' indeed is enormously limited. But I cannot but mention Kaal Akuma for sure too.
Like most bands from Bangladesh, Kaal Akuma do hail from this country's capital city, Dhaka. My first acquaintance was via In The Mouth Of Madness, this band's debut from 2021, which was released via no other channel but Dunkelheit Produktionen. This recording has not been reviewed yet by undersigned, but I will, I surely will! It was a killer-recording, probably way too underestimated. But first things first, and that's this second official release, called Turiya.
This EP consists of three compositions, clocking no less than twenty-one minutes. Greece's Nuclear Winter Records released this effort digitally, as well as on CD (limited to 300 copies) and tape (released in an edition of 100 copies) (no idea whether a vinyl edition will follow). It comes with, well, what can I say about the cover-artwork… It does represent a specific old-styled approach for sure, and hey, doesn't that totally fit to the aural content of what Kaal Akuma stand for? For sure it does!
Seriously, pretty much in the vein of their debut, this trio's newest effort honestly and convincingly pays tribute to the Old School. Remarkable is the fact that the 'songs' are quite lengthy, which embellishes that fine-tuned Nineties-inspired attitude. Not only the length of the tracks is remarkable; also the technical song-writing and ditto execution is respectable. You know, this trio (vocalist / bassist Rivoo, drummer Ah Puch and guitar player Akif) brings an extremely professional-sounding form of timeless Death Metal with an universal approach and quite some variation within each single peace, sorry, piece (no peace at all!). Respect for the production, for the result is enormously decent in mix (all voices and instruments are nicely balanced when analyzing the sound-quality), yet I love the fact that the whole has a certain dirtiness, a well-thought unclean rawness in order to strengthen the inherent morbidity, the all-covering obscurity, and the timelessness.
Opener Ego Death, the lengthiest composition out of three, with its duration of more than eight minutes, immediately devastates. This down-earthed monument combines a certain tradition with a high-skilled technicity. Low-tuned strings, fiery leads, colossal drum-patterns and vile percussion-molestation are gathered into a really monolithic expression of Immolation-like gracefulness. Intense and energetic passages alternate fluently with some slower excerpts and even doomed passages, like that gloomy intermezzo at about half of the 'song'. It goes remarkably well with the demolishing grunts, which have a certain reverberating effect. Seriously, those vocal chords must have been polished with rusted barbwire, I think.
The shortest track, Tiyanak (4:49), comes with a grinding force, created around surgically-precise riffage, merciless drum-assaults, timeless rhythms and that rabid voice. Besides, a few rather 'shouting' screams are added as f*cked-up anti-surprise. Here too, a lot of changes in speed and structure appear, including a sharp-edged and skull-crushing, thrashing solo. The slower passages towards the end breathe a sense of toxic hypnosia.
Ignorance Is Bliss, which clocks almost eight minutes, goes mercilessly on in the vein of both former elegies. Yet then again, it might be the bleakest and most ghastly track too. Rivoo's vocal timbre is of importance, for here it comes with a certain blackened grimness. A couple of riffs too exhale a blaspheme and intolerant malignancy, and with the few shouts my mind floats back to the earliest years of the more extreme Metal scene (Venom, Celtic Frost, that stuff, you know). After a barbaric sonic corpus (including a truly outstanding, adventuresome introduction), the outro gives a remarkable yet impressive accent to this band's own-faced approach, with that somewhat cheesy groove-lead.
A must for all fans and freaks of Dead Congregation, Incantation, Immolation, Suffocation, Gorguts, you know…
https://nuclearwinterrecords.bandcamp.com/album/turiya
https://nuclearwinterrecords.com/product/kaal-akuma-turiya-tape-pre-order/
https://nuclearwinterrecords.com/product/kaal-akuma-turiya-mcd-pre-order/