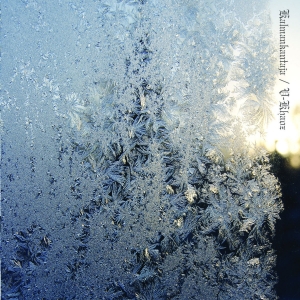 Release Date:
Thursday, September 24, 2015
In a series of four new releases on Patologian Laboratorio Productions, there is one split, being one in between Kalmankantaja and V-Khaoz. There is some kind of logic behind this split-release, for both projects are very trusted with each other.
The untitled split opens with three tracks by Kalmankantaja, probably the most productive outfit of Aki 'Grim666' Klemm, the guy who runs Patologian Laboratorio Productions. Grim666 takes care of all instruments, and the vocals are done by Nagh, who is, just like Grim666, part of Hautakammio's line-up (FYI: you can check the review on Pimeyden Valtakunta in the review-update of December 21st 2015). The material was recorded in Grim666's own Patologian Laboratorio Studio in June 2015. The three lengthy pieces are, by my knowledge, the most 'atmospheric' things Grim666 did, for this project dwells in the most desolate, desperate and helpless spheres of Atmospheric Black Metal. The link with the DSBM-scene isn't that far away, but Kalmankantaja cross the edge and enter the realms of other blackened and doomy dimensions as well. Some of the characteristics are the atmo-spacy synth lines and the shoegazed leads, besides the slowly marching tempo, the painful screams, and the rough yet melodious background rhythm section. Musta Maa and Valon Tappaja are quite doomish and melodic, while Suohandoista is little more energetic and up-tempo, yet then again less mesmerizing.
The four other (also lengthy) pieces are created by V-Khaoz, a solo-outfit of Ville 'VRTX' Pallonen, currently in Hiisi (check out the review for Suden Hetki in this review update) and Oath (a project that also involves Grim666, by the way), and formerly in e.g. Azaghal, Hin Onde, Hellkult or Oath Of Cirion (a project that has nothing to do with Oath, despite the comparable monikers). 'the main idea behind this music is to make people comprehend their insignificant existence; to acknowledge the unconditional extinction and just relinquish'; doesn't this sound promising and hopeful?... And for once this material has not that much to do with 'Metal' whatsoever in its most general approach. Let's take the first V-Khaoz song on this split, for example, World Wrapped In Callous Thoughts. It starts with a melodic, rather classic melody on semi-acoustic guitar, supported by some keyboard sounds, and after two and a half minutes it slowly evolves, though still being carried by those (simplistic) guitar melodies and background synth. These elements are the main structures for the four compositions on this split. But each time it's little different. Inevitable Devolution, for example, the second track, initially includes some prominent bass lines at the background, as well as some percussion, but after a couple of minutes it slowly, yet suddenly, turns into an epic and little traditional outcome of Atmospheric Black Metal with quite some injections from themes of emo. It's like a long-stretched Doom-Black composition that might subtly lacerate the fragile severance of Cascadian creationism and Post Rock-laden atmospheres. Pretty much the same goes for Universe In My Arms, which carries a major lead for piano, spoken words and melodious voices, and somewhat forced (yet luckily distantly present) drum mechanisms. The final track, Silence In Heaven, is, just like the first track, an instrumental and non-metalized composition, yet rather a cosmic, hypnotic and proggy piece of Dark / Space Ambient.
This release is quite different from the usual – though… No, it's not that unique, but I think it's quite remarkable and surprising, for it is not the usual cup of tea we're used of from both artists behind those projects. But I think they did quite a good job with these outfits. And the final result is for sure a logical and cohesive one.