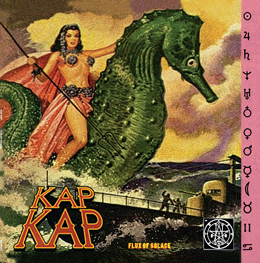 Holy smokes...you won't believe this, but I was quite incapable of finding any info what-so-ever about this Helsinki-based 5-headed Experimental Rock act, meaning that the only info I can give you comes straight from the short info sheet we got along with the download promo copy of the album.
Well, that's not quite completely true. You see, the info sheet informs us that the band has released two acclaimed records before : 2008's Fullmooner EP and 2010's Holy Are Thou full-length, and I at least found out that they were both issued through the Cobra Records imprint, respectively on 10/06/2008 and 11/08/2010. Now, almost 4 years is quite some time between releases, and from what I can gather from the info sheet, the band's music went through some changes, with the band itself describing their current album as a kind of Classic Rock outing which has something for everyone, while still holding the recognizable Kap Kap sound. The songs are said to reflect the feelings of a modern man in this world : wanderlust, rebellion of the individual and community, living on earth and on the other side. The album is meant to echo "...the eternal, inevitable chain in our lives, the glory and the fall after..."...whatever that's supposed to mean!
At any rate, the band's music doés have a retro feeling, harkening back to the progressive/ psychedelic sounds of the early '70s...a period of music which was resuscitated in Scandinavia, and Finland specifically, since the mid-90s. The red thread throughout the album, is the somewhat sedate (but not unpleasant) vocals of the singer, but the songs themselves can be both more guitar-oriented (with occasional freaky sound effects, such as feedback and retro-overdrive distortion), have passages in which there's a focus on keyboards (piano ànd electric), and occasionally have a more expanded, more ethereal atmosphere.
For 30-second samples of the band's songs, look up the album (and its predecessors') pages on iTunes, Amazon, and other online sales sites (hum...maybe you'll even find some of 'em on Spotify or same-like sites, eh?). At any rate, great stuff for anyone who's into that "free spirit", early '70s-era type of music!