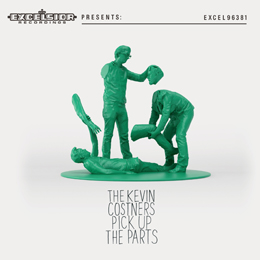 This Dutch/ Belgian Pop Rock act was founded in 2004 as a home recording project by core members Bouke Zoete (vocals & guitar), Sjors van der Meulen (guitar/ keyboards/ vocals) and Stijn Klaver (drums), with the intent of paying utter importance to "The Song".
After only three rehearsals with live members David Lauwen (keyboards) and Rick Weren (bass), the band made its live debut at Nijmegen's Doornroosje, where they walk away with the much coveted 2005 Roos van Nijmegen price after only two shows. The band then sets out to play several venues, both in Holland and Belgium, and in December 2006 manages to win the Grote Prijs van Nederland. The band then starts working with producer Peter Crosbie, and releases its debut full-length Come On In through Excelsior Recordings in 2008 (weirdly enough, I'm convinced that I've written this story before...even with more elaborate details... but I cannot find actual proof of it... Hum...!).
Following the February 2010 release of the single "Laid Me Loved Me", the band starts working with new bassist Jarno Volman (of Merry Pierce renown) on the material of a new album, and recordings with producer Frans Hagenaars actually start (after the decision of a 20-track long-list was taken) in September 2011. After that recording sessions were either delayed, canceled, or even forgotten. But eventually things all fell together, and the final mix got the nodding approval of all three core members. It has to be said, the individual members had not exactly been idle in the meantime. Zoete was one of the singers (also involved were Tim Knol, Janna Schra, Ricky Koole and Marijke Dorlijn (the latter of Moss fame) of the Happy Camper project Born With A Bothered Mind, which played at sold-out venues as far as Indonesia. The project went on to get an Edison award (Dutch equivalent of a Grammy), and Zoete was again involved in the new Happy Camper album, The Daily Drumbeat, which was released in March of last. As a passtime, van der Meulen played with Roy Santiago in The Doo Run Run.
I'll not waste lots of words describing the music on the new The Kevin Costners album, as it would take me too long to go through its diversity. Some songs are more keyboard (occasionally even piano) based, where others are geared toward a guitar sound. The band itself explains it as referencing at times to Rumours era Fleetwood Mac, and to The Beatles at other moments, but to actually put the music in a certain category...let's just call it quality Pop Rock, shall we!? Another reason why I won't go into lengthy descriptions, is because a possibility to listen to the complete album is posted on 25/06/2014 in the "Timeline" section of the band's official facebook page!
If you're into quality Pop Rock, you now know what to do!