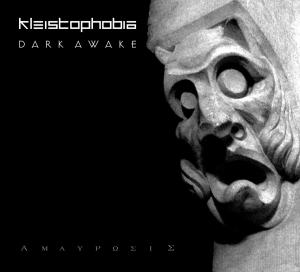 The Greek label Aisxini Records is a very open-minded one, with some hands full of acceptable Metal (re)releases. Recently they also took care of the album ΑΜΑΥΡΩΣΙΣ, aka Amavrosis, a split of two great one-man combos from Hellenic soil. It has nothing to do with Black, Death or Doom Metal, yet it is at least as obscure, oppressive and overwhelming.
The digital edition is available via the above-mentioned label as well as via both projects involved (link to their Bandcamp pages: see below). There is a digipack compact-disc release as well, printed in an edition of two-hundred copies (no idea whether it did sell out in the meantime, to be honest) and with exclusive artwork. The cover visual is bizarre, uncanny and abstruse, which goes extremely well with both projects' aural content and execution.
ΑΜΑΥΡΩΣΙΣ is an exclusive split, an alchemically-connected collaboration meant to be a light to the dark Universe, aka 'a magnificent album of Crucial Dark Ambience that can exterminate or expand'. It will confuse you, betray you (cf. the Greek title, meaning something like 'blackmail' or 'extortion'); the very same goes for the sonic performance, which works both reassuring and confusing.
The first five titles out of ten are created by Kleistophobia for this release exclusively (the same goes for Dark Awake's contribution). Their so-called Black Ambient Drama continues that of the former material, even-though there are some differences with 2019's Hymns For The Fallen Angels.
Anyway, these five (way too short) ceremonial hymns clock about fifteen minutes, still creating haunting spells and gloomy rituals. The first piece, called The Calling / Python, is the sole piece with a 'decent' length, clocking almost five minutes, and representing the core of Kleistophobia's doomed manifestations. This composition is the most oppressive out of five, constructed around haunting synth-melodies, and injected by deeply ominous drones and somehow intimidating waves that float by and, almost invisibly, fade away. It's a spine-chilling piece, a soundtrack for desolate and forgotten visions. The two shortest pieces, Mephistopheles and Dancing With The Goat (both of them clock less than two minutes), have a rather acoustic approach sound-wise (based on piano), with repetitive melodies, balancing in between soothing tranquility and an inherent opacity. But still they do maintain the dark-cinematic spirit that characterizes this quest through the worlds of oblivion. Lost Into Abyssic Mount and Ashes… are purely mesmerizing pieces of claustrophobic ambience. The first one is rather repetitive, yet therefor guiding the listener into static hypnosis and euphoria at the same time, while Ashes… is more abundant when realizing the melodious layers of synth-majesty.
In conclusion: the contribution of Kleistophobia is a diverse one, yet a coherent collection as well, creating a well-thought equilibrium of ominous fear and floating illumination.
Dark Awake, the outfit of Shelmerdine, is quite a productive project with about twenty official releases in the meantime. The last one, Hekateion, released via cult-label Aesthetic Death, was a monument of mystic and occult Dark Drone Ambient, so I did really look forward listening to these new compositions, also written and recorded for this split exclusively. These ones clock over twenty-two minutes, divided over five different yet cohesive compositions.
What strikes me as from the very first moments of the first hymn (and indeed, I use the description 'hymn' with a reason), Bonds Of Blood And Memory, is the megalithic martial approach. Many layers of bombast, overwhelming symphonic orchestrations and thunderous, militant percussion and drum beats (human bones included!); this forceful execution brings the Martial Industrial elegance to mind. Det Ydnub, the again, dwells into spheres of ambient electronics and spacious industrialized sounds, with vocal samples and additional noises from uncomfortable sources. There is a lot to pass through, and despite the bountiful collage of samples, field recordings and manipulated sounds, the total experience works memorable. Salve Divina gathers elements from both former pieces, yet it goes further too. Mechanical and ritual / occult fragments, subtle hints of Power Electronics and Space Ambient, bleak voices and varied percussions, bold and esoteric fragments in combination with fierce ceremonies; this piece copiously canalizes diversified sources into an expression of transcendental, mind-twisted grandeur. Likewise, and not either (yes, I am confused as well, haha), The Anagennesis Of The Sacral Hexecraft mixes different sonic sources into one harsh, apocalyptic and overpowering piece of frenzy grotesquery: 'heavenly' soprano voices, shrieking electronics, callous beats and percussions, orchestral synths-lines, and manipulated sample-sequences get combines with a convincingly dark-minded attitude. It makes it all so mysterious and, at the same time, unreal and astonishing. It stands in a remarkable contrast with the final track, The Despair Of Flesh (the shortest one by Dark Awake, with its length of three minutes), being a piece done by grand piano only. Despite being piano-only based, The Despair Of Flesh breathes that characterizing claustrophobic atmosphere too, even-though the integrity and quiescence might work disturbing.
ΑΜΑΥΡΩΣΙΣ turns out to be a very diversified yet, at the same time, cohesive work of aural obscurity and ritualistic magnificence. Both projects involved are very distinctive from each-other yet still they withhold a unique and comparable atmosphere that accompanies the listener through dimensions of immense proportions, where no light penetrates the untouchable and impenetrable darkness. Nothing is what it seems to be; extortion and distortion overwhelm and asphyxiate. Yet still the audible result of this split-release is masterfully impressive! High(ly) recommended!
https://darkawake.bandcamp.com/album/-
https://kleistophobia.bandcamp.com/album/-
https://aisxini.bandcamp.com/album/--5
https://www.concreteweb.be/reviews/dark-awake