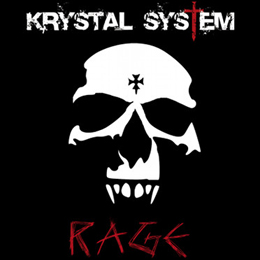 Right, before I actually get into the music on this album, I have a rectification to make. You see, in the review of my first encounter with this band, which was for the remixes EP Underground: Voodoo Night Sessions (review posted 20/12/2009) I made a small mistake, namely to assume that the band's full-length album Underground was still to be released...when in fact it had been issued a year prior to the EP, on Nov. 14, 2008. At that time our website had not yet re-connected with the people of Alfa Matrix yet. That, in fact, happened a couple of months later, with the release of the Leaether Strip's Aengelmaker.
Since then, Bonnie and N°7 (aka the Paris, France based duo behind Krystal System) have released their sophomore album Nuclear in June of 2011, but that event was preceded with the people at Alfa Matrix changing their iPool to a system which we at Concrete Web were quite unable to download, and therefore we missed that second album altogether. As well as quite a lot of other releases by the label, I daresay! Luckily, the label recently changed over iPool systems again, so now...business is back to usual! Well, of course, in the meantime Krystal System has managed to procure itself a place in the spotlight in the Indie Rock scene across Europe and also overseas, from Japan to the US.
With Rage, so states the label, KS "...return and hit hard again, setting the production bar even higher". I don't know about that, seeing as the duo again went to the prestigious Parisian Studios d'Or, and had the album mastered again by the London based Swift team. But I will agree to the point that the songs on the album are individual potential hits! From the album opening title track with its great mixture of electronics and guitar, over the electronics-only (plus overall rather calm and threateningly dark, plus done in the French language, ànd a vocal solo for Bonnie) "La Lame Dans La Main" , and the waltz-based "Tyler's Waltz" (with its spoken word passages and samples, rather than actual singing) down to album closer "Bye" (which is a partial thematic return of the album opening track), each and every one of the 13 songs on the album has a quality which cannot be denied, and which would make the listener turn his head when played individually. Part of that, of course, is due to Bonnie's vocals, which endear the listener not only due to the girlie qualities, but also because of the thick French accent. N°7, from his side, manages to keep that accent out of his singing móst of the time, but occasionally falters. A second song on which French lyrics are used, is titled "Fantôme", but this time does incorporate passages with heavy guitar.
To tell you the truth, this is one smacker of an album for anyone with an open mind, but with a preference for well-written music! As stated in the info : "Rage is the uncompromising soundtrack of urban warriors on a holy quest for their roots, fighting for the truth in a suffocating post modern world contaminated by mental disease. Loud and rough Indie Rock guitars filtered through artisan fx and mutated into a wall of noise combined with straight ripping electronic bass lines and radical synth arrangements. Electric versus electronic. Rage is dominated by seducing contrasting harsh male and filtered female vocals. A unique blend of styles confirming that Krystal System creates their unique and characteristic sound design"! Right, let's however complete that statement by mentioning that, while the guitars usually play the harsh rhythmic parts of the songs, and where the undercurrent melodic side of the music is usually brought by the electronics, there's occasional moments when the guitar brings more than just riffs. In essence, what KS brings here is nót a "Electric versus Electronic" soundscape, but rather a perfect blend of those two, all too frequently seen as opponent, genres! On top, Bonnie's vocal stylings set the band apart even more, on a pedestal of its own, really!
Well, I've stated before that I lóve this band...I can now honestly say that I a absolutely bonkers about KS! I am definitely walking up to the record store to buy their album(s) one of these days! If you have bothered to read on thus far, then a certain interest must've been awoken. To kindle that a bit more, go listen to the 30-second samples made available by the label. Log onto the label's website, then look for the album cover on the right, click, and stroll down the page to where the track-listing (in blue letters) allows you to listen to the song samples. Warning: highly addictive; lovers of good music may find themselves in a record store soon after, or making use of the possibility to order the album through the website! Hah...I just found myself the very firs release for my 2013 year-lists!