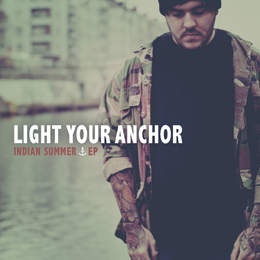 This Hamburg based German Hardcore unit was founded towards the end of 2011, and following the release of their debut EP Peter Pan Syndrome (issued on vinyl through Anchored Records, and digitally through Acuity.music, the latter version containing two extra songs) in early 2012 (a re-issue of the EP was also brought on CD through Bruised & Broken Records, during Summer 2012 – a nice detail of the EP, was that the guys managed to attract several other bands' singers to come bring a contribution : Pablo Sanchez of Billy The Kid, Jasper of A Traitor Like Judas, and Steve Rawles of Belvedere – hum...the latter must've been a wet-dream-come-true to the guys!), the band went on to release a full-length titled Homesick in mid-June of last year...and you can find a relatively good review of that album, done by relatively new colleague Maja Vanhalle, on this here site (check around the release date, okay?)
Details my colleague may have been unaware of (at least, she didn't mention 'em), is the fact that the band was founded by the Straight-Edge members of the established outfit Between Love And Madness, who simply started a new project without limiting themselves as far as sound and lyrics were concerned. Something completely overlooked by female colleague, is the line-up of LYA itself, which consists of lead singer Daniel Müller, guitarist Michael Peukert, guitarist/ backing singer ("angel" voice) Thomas Schipper, bassist Toni Korthals, an drummer Max Bruns (the latter's current status with the band being uncertain – meaning he may well be a new man replacing the old drummer, or be the original drummer for whom the band is/ or has found a replacement, without notifying anyone). Soundwize, they wanted to approach their music as a tribute to some of the bands they grew up with, such as Satanic Surfers, Belvedere, Have Heart...meaning the guys were going for an Oldschool Hardcore style with nice technical play adding great melodies. Following the release of their debut EP, the band set out for a year-long period of touring, and was given the opportunity to share the stage with some established bands of international allure such as H20, Parkway Drive, Evergreen Terrace, and Stick To Your Guns among others, which of course brought the band to a much wider public than any other starting young act.
That some nice results were garnered, is positively proven by the fact that even before a note was written of the full-length debut, the band's use of guest singers on their EP had already solicited Jonny (full name Jonathan O'Callaghan) of Liferuiner into stating his willingness to contribute vocals...and as you know (from that review by my colleague), another singer consenting to contribute would be found in Climate's Wes Thompson. Another positive result, was the fact that the EP had found the Let It Burn Records label so enthused that they offered LYA as deal for their upcoming full-length. Regretfully, I have not too many details on what the band's been up to following the release of that full-length, but I can surmise safely that they've troured all around Germany so far in promotion of their album. The one info I dó have, tells me that the band most recently toured with US Hardcore acts No ragging Rights and To The Wind, but I'm uncertain as to whén exactly that happened.
The Melodic Hardcore act now returns with a new "EP" (why call it that way, when only 2 songs are included, I mean, even if this is only a digital release, you know!?), comprising the title track and b-side "Apologize" (with guest vocals by one Carolina Melean in the latter part of the song), none of which I found either audio or video files for on the label's site (www.) letitburnrecords.com, or on the band's official site (www.) facebook.com/lightyouranchor. On the latter I however found a shit-load of other videos (28 in total, but several are actually different versions of the same song) of older material which, I'm certain, are still representative for the band's current stylings. Somehow, I was unable to get into the "music" section (due to my use of an outdated browser, perhaps?), so possibly there's audio files on one or both of the "EP"'s tracks there anyway. You go find out for yourselves now, will you!?