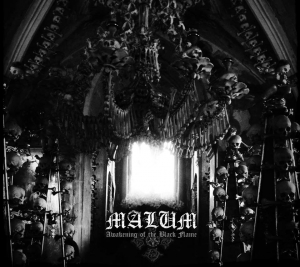 Album Title:
Awakening Of The Black Flame
Malum are quite a young outfit by Finnish warrior Niko 'Tyrant' Lindell, who recently joined combos like Kalmankantaja and Infernarium (as vocalist). Since the start in 2013, he did record a couple of EP's (Malum and Burning Trident) and one album (Crowned With The Serpent Sun). Recently he joined Patologian Laboratorio Productions' roster (Kalmankantaja are on the very same label, so that might be the clue / glue; by the way, I will write and upload a review for this band's newest release too in a very near future) in order to release the newest EP, Awakening Of The Black Flame. For this three-track release, Tyrant (vocals and guitars) was helped out by EV Virtanen (guitars), Valtteri Tuovinen (guitars and bass; involved with e.g. Infernarium and Daemonarchia), Harri 'Beleth' Hakala (drum; known from acts like Nightside and Vordven) and October Fall's Mikko Lehto (the latter playing guest guitars on one track). The mini-album gets released in an edition of 200 copies, and the three songs last in between seven and nine minutes.
Opening track Will starts with a desolate introduction, yet quite soon it turns over to what this project stands for: playing energetic and quite traditional Black Metal. The basic riffs are quite fast, with both slower and blasting passages, and including a quite melodious yet highly epic structure. Indeed, the classic Scandinavian oriented essence prevails! Seen the length of the pieces, it's not strange to notice quite some variety in speed, structure and approach, and seen the professional craftsmanship in song writing of Tyrant, plus the crafted execution of the whole horde, it's not strange to notice quite some variety in speed, structure and approach either. Actually, there are quite some memorable, almost surprising excerpts. I do never dislike 'traditional' bands, at least when they do not spoil the essence, but only few bands are totally able to pay tribute to the origins and, at the same time, to bring something that simply stands out. This is such case. All three compositions are initially 'traditional', but all of them have a couple of excerpts that are just mind-blowing. It's not the finesse of the fabulous equilibrium in different tempos, or the magnificent decent yet unpolished sound quality; it's the whole package, including the few exceptionally outstanding chapters, that make Awakening Of The Black Flame so attractive. Formerly mentioned Will, as well as the doomier, even atmo-melancholic epic Ikuisen Vihan Tulessa (hail Solus, Hades, Forgotten Woods and early Satyricon!) or the furious title track are semi-classics, quite lengthy but permanently attractive and constantly bewitching.