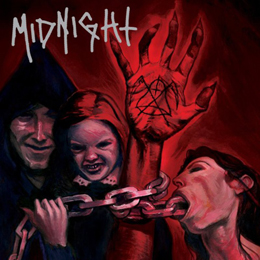 When I listened to Midnight's debut album Satanic Royalty for the first time, I completely fell in love (of course of the most hateful kind) with the muSICK these guys were creating. Check the Hells Headbangers Special November 2011, posted on November 6th 2011 (including the likes of Speedwolf, Vladimirs, Sanguis Imperem and Embalmed). And now, after more than a decade of existence, and many hands full of EP's, split-contributions, compilations and live-albums, Midnight return with their second full length, once again released via Hells Headbangers, top-label when it comes to sleazy stuff…
With No Mercy For Mayhem, Midnight show what they are good at, and what is the core of their raison d'être: paying tribute to the Eighties Old School. Rock 'n' Roll, baby! No Mercy For Mayhem collects ten or eleven [the CD-edition has one additional song, and besides, it comes with a bonus-CD, which comprises the rare Alive On The Streets Of Cleveland-LP] Black / Thrash / Speed / Heavy Metal songs from the Old Skool, bursting of fun. This is the sonic definition of Babes 'n Booze, spikes 'n leather. Of course the tempo is lovely energetic, the tracks melodic yet sleazy, and filled with fiery and fierce solos, a punky erected-middlefinger attitude, and a hot-pepper-in-the-behind groove.
Midnight have created a pretty own approach in mean time, but they cannot be labelled as original. Why should they anyway? One of the lovely things that is distinctive from many colleagues is the fact that Midnight do not always need to play blasting onslaughts. Most of the material is pretty up-tempo, of course, but even within their slower passages they do convince with no mercy (for mayhem); cf. the title track amongst others. Another fine element is that this band is enormous melodious. The riffs sing whole the time, playing a head role in the whole concept. But don't think this isn't but a guitar-driven album. No, every single actor is of great importance, whether it be the drums, the bass, the lead or rhythm guitars, or the vocals (I will come back on those immediately). It has to do with the nice song writing and cool performance, of course, yet also the superior production and mix provide that great equilibrium. The sound is massive, turning the individual songs into majestic, unbreakable walls of sound. And then, those vocals, and I'm nor referring to the punky shouts and choirs. Athenar reminds me a lot to Cronos especially, with hints of Lemmy, yet still with an own timbre. His aim is not to shout like a hysterical corpse-painted freak, but to use his voice in a manner that is mostly fitting to Midnight's Thrash'n'Roll.
Despite the overdose on related releases lately, this highly catching album is a must for fans of early Venom, Motörhead, Destruction, Aura Noir or Nocturnal Breed.