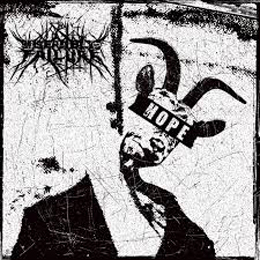 Release Date:
Thursday, January 16, 2014
Hailing from the Southern France stinkhole (so they state themselves!) of Marseille, the quartet known as Miserable Failure has been spewing its hateful Grindcore since their formation in 2012. The end of that same year saw recordings being started for the band's contribution (4 short-sharp-shock tracks) to the 2013 released split release with Infected Society and F Stands For Fuck You (a Benighted side-project), fittingly titled Miserable Society.
Somewhere during 2013 lead singer Blue, guitarist Rom "Maldito" Sanchez and drummer Elvis Jagger Abdul Jabbar (surely, that ain't his actual name, is it!?) exchanged original bassist John Culbuto for Mélanie Sugin, and the band recorded the 4 short-sharp-shock tracks for this here EP, available for free download from (http://) listen.koatoxin.com (which re-directs to the label's BandCamp). Expect full-throttle speedy shorties, with slower passages for the spoken word (or are they samples from movies?) in EP opener "The Blueprints Of Self-Disgust" and the track "Goodbye & Good Riddance" (in French and English respectively), but overall gut-screamed vocals by both the lead singer and his backup. The other song titles being "One More Reason To Set This World On Fire" and "This World Ain't Mine", one gets convinced of the dark outlook on today's society these guys (and also girl – mustn't forget) have. On can only hope they use their music and lyrics as a purging of their darker feeling, and a catalyst for better things! Available as free download, the 4-minute EP was also (I'm sure all copies are gone by now) available as an ultra-limited cdR and likewize tape.
Meanwhile, the band's contributed songs for a new split album entitled Monsters! Invasion! Maintain Quarantine, released March 11 through Kaotoxin, about which I hope to be able to tell you more in the near future...because I like this sort of music, which is so often accused of being devoid of melodies, just because it's loud, obnoxious, and relates to Mankind's filthier and more gruesome habits! Yeah...I love this, to the point of adding Hope to my 2014 year-lists!