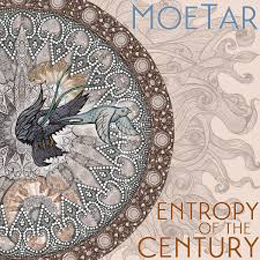 Darn, the life of a music journalist is an odd one : waiting around for those couple of rare releases which make one sit at the edge of the seat...and then having to let go to move on to more of those middle-of-the-road releases which make up the bulk of music put out into the world today. I daresay however, I've recently been blessed with a somewhat higher occurrence of the stuff which keeps me doin' the things I do (in spite of the private life and especially work situations putting so much pressure on this voluntary music reviewing work), and the discovery of MoeTar certainly falls onto the positive side of the balance!
Based in San Francisco's Bay Area, the band was founded in 2008 by singer Moorea Dickason (aka "Moe") and bassist/ backing singer Tarik Ragab ("Tar"), which immediately clarifies the bandname. Previously, the pair (a married couple too) had already worked together in the more politically minded Funk/Pop act No Origin, but both of 'em have been active in music for longer than that. Moorea still sings in the women a cappella group, The Riveters (which gave her the vocal training she still profits from today), is the part-time director of the teen a cappella group 'Til Dawn, and as a session singer, has recorded over 60 songs for the music video games Guitar Hero, Garage Band, Karaoke Revolution and Dance Dance Revolution, work for which she's had to adapt her voice chameleon-like to emulate the Greats! With MoeTar however, she sings in her own voice, and making a terrifically nice job of it too! Tarik now...is in fact a multi-instrumentalist musician, with the bass as his main instrument. He's also a composer and artist. As a composer he's said to have already written thousands of songs, as a musician, he would have played with hundreds of other musicians, and eventually, he's already recorded and released several albums of his own music (something which needs looking into, Tony!). As can be expected, he is the main composer of MoeTar's music. As a visual artist, he's done murals, custom motorcycle art, real estate sketches, medical illustrations, and of course his own original work.
In other words, two well-seasoned musicians...but then so are the other components that make up the line-up of the band known as MoeTar. First, there's guitarist/ backing singer Matthew Charles Heulitt, a longtime bandmember of such renowned drummers as Michael Nadara Walden (known from Jeff Beck and The Mahavishnu Orchestra) and Zigabloo Modeliste (of The Meters)...whose shared the stage with such notable musicians as Carlos Santana, Sting, and Taj Mahal, among others. Secondly, there's drummer David M. Flores, whose cv is more like a list of internationally successful collaborations (including tenures in the bands of Mary Simpson of The Supremes, Lauryn Hill, Donna Summer, and then some...). Last but certainly not least, there's the keyboardist...a role first handled by Bob Crawford, whom was soon replaced by Matt Lebofsky (also fulfilling backing vocals), known best from his tenures with Secret Chiefs 3, miRthkon, and Faun Fables (besides the other projects/ bands he was in). In 2014, the line-up was expended upon with the recruitment of additional keyboardist Jonathan Herrera, who's played with Brain, Oz Noy, Zigabloo Modeliste, and others. He's also an in-demand clinics player and has been a teacher at Stanford University, Musician's Institute, and other places/ events.
The original line-up having been selected, Moetar didn't come out of the rehearsal room until May 2009, to perform near the finish line at San Francisco's annual Bay To Breakers race. Other important gigs that year included a show at the annual Burning Man Decompression Festival, and a support slot at that year's final show of Sleepytime Gorilla Museum. In early 2010 the band recoded its debut album From These Small Seeds, which they originally self-released in July of the same year. In 2011 MoeTar signed onto the Magna Carta roster, who re-released From These Small Seeds with different artwork in early 2012. Meanwhile, Tarik was already working on new material, originally with the idea of froming some kind of narrative about the awkward political, economic, social and environmental state the world is in today, countered by the exiting advances in science and technology which are constantly expanding our knowledge about the nature of things. However, during the writing process he became interested in entropy (defined as a lack of order or predictability where a a system gradually declines into disorder, it can also be seen as a system transforming into a richer, more complex form beyond our current comprehension) and thermodynamics (the idea that energy cannot be created or destroyed), and the way they interact with our existence, and made that into the central themes of the album to come. You would be rightly justified in calling Entropy Of The Century a concept album, indeed you would!
Now, I'd listened to the music well before checking out the info sheet we got along with our promo download of the album, and the very first though that crossed my mind was that these guys sure must've listened to the early works like the first 10 years or so) of Frank Zappa! Sure, there were other elements as well, rather difficult to describe, but Zappa was the most prevalent one. As it happened, the info sheet suggests a "description" of "Beatles + Frank Zappa + XTC on acid", or the more genre-geared "Prog-Pop-Fusion-Avant Fusion", which they say is somewhat of a mind-bender...but those in the know can certainly make up some of an idea of the band's music with such a description. Even better though, is to actually listen to the music...and that's something you can do effortlessly by surfing over to the "Music" section at the band's own (www.) moetar.com, where you'll not only find links to no less than 10 audio posts (6 off the current album, 4 off the debut) on SoundCloud, as well as a couple of music video clips (2 for songs off the current album, one older – an additional older video is posted at the band's facebook page). Better even would be, to be able to listen to the album as a whole, through outlets as Spotify, for instance...or by getting the album and subsequently playing at high volume at home! Because besides Moorea's wonderful voice, you'll also get musicians playing at top level. Each and every one in the band is indeed an absolute master on his instrument, and the music allows for everyone to bring lavish proof of that!
Gréat stuff, and one of the absolute highlight releases of 2014. therefore not a nomination into 2014's year-lists, but a retroactive addition to 'em!