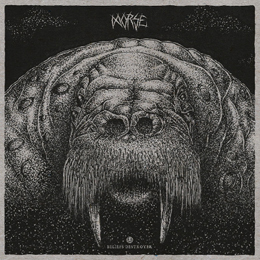 Release Date:
Monday, September 2, 2013
A further catch-up movement from the part of Mandaï Distribution (very possibly, the guys got the albums only rather recently) brings us a bit closer in time with the sophomore release of Montpellier based French band Morse (not to be confused with equally French band Mörse from Lille, in the North of the country, who play a Punk-Hardcore style of music) which takes its name from the french word for walrus.
Oh yeah, let's take opportunity of this moment that I found no other info on the band as the one I'll be relating to you in this here review (which ain't a lot at all!). Prior to this release, which was recorded by "Michael" in late 2013/ early 2013, and mastered in May 2013 by the renowned Scott Hill (whom you might know as being the guitarist of Pig Destroyer and Agoraphobic Nosebleed), the band released a 5-track EP (also through Head Records) in October 2011, and actually re-recorded that EP's 3 shorter songs for the new album. Although the info at (www.) mandai.be puts the band's style down as "Rock", their music is quite a bit dirtier than that, and actually based in loud 'n' noisy riff-geared Hardcore bordering to Power Violence, with a singer whom clearly feels at home in that genre. The songs are relatively short and sharp tracks, with the 9 tracks averaging just over 2 minutes in time, making for a total listening experience of a mere 18:08! Still, that's exactly right for this kind of music, as it tends to drain the energy out of the listener somewhat. As things stand, the more masochistic among us will be left with just enough power after the first session, to puch the play button on the cd-player for another round of delightful punishment.
If you are equally so inclined, or simply love the type of music (you're not alone, be assured), I can recommend you to surf to (www.) head-records.com. Seek out the album cover with the walrus on it (artwork provided by View From The Coffin, by the way) and you'll be re-directed to the band's bandcamp page, allowing you to listen to both the 5-track EP, as to this 9-track mini-album! What can I say more...enjoy...? Shite...almost forgot: the album is available both on CD as well as on 12-inch vinyl!