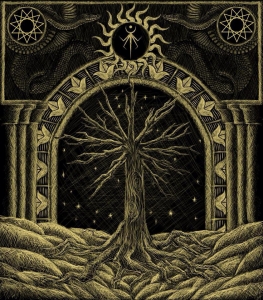 Release Date:
Thursday, October 15, 2015
Mortuus Umbra are a new combo from the city of Tel Aviv, Israel. After a digitally released single, they came with a four-track EP, released the digital way as well as on CD in a co-operation in between Israeli labels Forneus Records and Totalrust Music and now on tape too via No Return (the review for Saligia, by the way, will be written and uploaded very soon!). The band, which includes Forneus Records' label owner Tom Cohen, had this mini album mixed and mastered at the Studio Emissary with Stephen 'Wann' Lockhart, who did some producing / mastering work for acts such as Dysangelium, Slidhr, Abominor, Svartidauði, Under The Church etc. before too.
The EP opens with a re-edition of Holy Procreation, starting off with an introduction created by no one else but Nox 210 / Emme Ya / The Red Angle's Edgar '111' Kerval (you might know him as well from his guest / session assistance for acts such as Bathory Legion or Acherontas too). But after a couple of minutes, Mortuus Umbra show their teeth, bringing a fast-paced, technical and epic form of harsh and varying universal Black Metal with an own twist. No, it is not renewing at all, but there is such a great and well-balanced variation (tempo, structures, atmosphere), a splendid performance, and a wonderful sound quality going on. The latter, the production / mix / mastering, is forceful and overpowering, yet maintaining a profound and prominent roughness, which surely strengthens the grim atmosphere. A surplus is the voice of band leader Tom, spitting blood and venom, grunting as deep as from the bottomless abyss, without going into exaggeration. On top of it, the technical performance often caresses the borders of the Post-Black scene (not the Progressive Black scene), and who am I to dislike or disapprove such approach?... The guitar riffing is quite important through most excerpts, but the rhythm section, being overpowering and hammering, is at least as important to define Mortuus Umbra's raison d'être.
This recording is an extremely satisfying effort, but still I think this band has so much more to offer. I have no idea whether they're working on new material, but my intuition says that this isn't but the beginning. I hope my prophecy might reveal itself soon, but I foresee a future, darkened and nasty, immortal, victorious…
FFO: Wormreich, Blut Aus Nord, Deathspell Omega or Svartidauði…