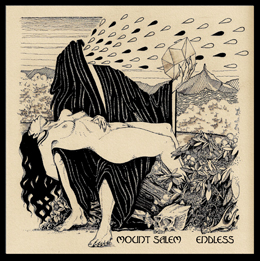 Release Date:
Friday, February 28, 2014
Mount Salem is Emily Kopplin (vocals & organ), Cody Davidson (drums), Mark Hewett (bass) and Kyle Morrison (guitars) they are from US, Chicago. Playing psychedelic rock and doom metal.
Endless their first EP I was very carefully because first EP can't be so good as this one. Sounds very nice with a soulful and a truly female voice. "Lucid" the third song sounds very nice with some cool riffs from Kyle Morrison. "Full Moon" Starts with a bluesy sphere, a great contrast between the voice from Emily and bass player Marc. "Mescaline" an interlude with some country sounding song. "Hysteria" again great amazing riffs the future of this group is insured. "The end" what a play between organ and the riffs of the guitar…
Who loves this sound must buy this record sounds great and will hear more from Mount Salem !