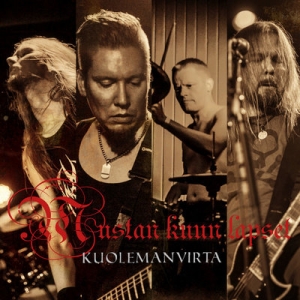 Hey, a new Mustan Kuun Lapset release? Indeed, it is. All hail the godz of Finnish Metal!
Mustan Kuun Lapset (which means something like black moon's children – all hail google translate) are quite a 'big name' (especially in their home country, evidently), formed in 1993 (initially under the moniker of Häiriö, if I'm not mistaken). The band did record and release quite a number of things, amongst which a split with Azaghal (!) and four full lengths. Unfortunately, after the release of their last full studio recording, Viimeinen Laulu Kuolemasta, the band did split up. There seems to be a compilation too, released in 2011 via a (in mean time defunct) sub-label of Firebox, but the band was no more…
So imagine my surprise, when the (nice) guy behind Inverse Records let me know that there was a new piece available. And indeed, research learned me that Mustan Kuun Lapset are back in the world of the living. With Kuolemanvirta, they confirm their resurrection.
Kuolemanvirta (translated as the power of death) compiles four tracks, taking off with the new title song. I was somewhat afraid to enter 'easy-listening' Metal, since the band permanently evolved, but imagine my enthusiasm when noticing that there are still plenty elements from the harsher past going on. This opening composition is built around a little hypnotising lead riff, supported by a truly grandiose rhythm section (I am pretty sure the production / mix have been of prevailing importance, but then again, why not) and the deep growls and screams by frontman Pete Lehtinen. The second piece is a re-interpretation of Veritanssi, which was originally released as part of the 1998-EP Prologi. Since I adored the early years, and because this renewed version stays pretty close to the original, I cannot but recommend the fans of 'old' Mustan Kuun Lapset to give this hymn a try. It's a slow-paced and highly melodious composition within the 'classic' vein, but with a truly distinctive blackened identity in combination with a huge dose of melody (something not that uncommon in Finland, as you might know).
The live-tracks are a nice addition for sure. Imagine the qualitative performance on Valkoinen Satama, I have no idea when and where it was recorded, but it confirms the live reputation of this Finnish act without doubt. Because of the sound you know that this isn't a professional studio recording, but performance-wise, there is nothing you can disagree with. Kuka Palvoo Saatanaa (which you might know from the split with Azaghal) comes with quite an inferior sound quality, but this short Black Attack is another proof of Mustan Kuun Lapset's live qualities. This short blasting eruption causes neck injury for sure, but it's worth it, I think…