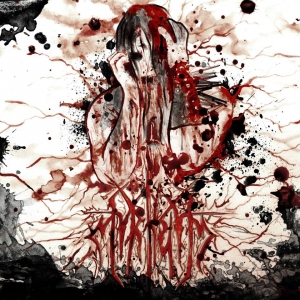 Praise the Horned One, bless Him with a sacrifice, for He made Myrkvid resurrect from oblivion! Hail!
I adore this French horde enormously. You can read about my appreciation here: http://www.concreteweb.be/reviews/myrkvid; it's the link for Pleasures Of Hell, the sole full length to date, released at the end of 2013 via mighty Asgard Hass Productions. Since then, the band did not release anything at all anymore, and Myrkvid did seem to fade away into nothingness.
But here they are again, nowadays signed to Belgian top-label Immortal Frost Productions (owned by S., the singer of Ars Veneficium a. o.). Demons Are Inside is a six-tracker, lasting for about twenty-six minutes, with impressing artwork by Maxime Taccardi (known from e.g. K.F.R or De Vermiis Mysteriis). The MCD gets released in an edition of 500 copies, and it is available as well via the known digital sources. Main member / band founder Myrk has been assisted this time by drummer Skogsvandrer (not for the first time) and Askr on strings.
The album starts with Wish You Were Here, which opens in a groovy way. Soon things get clear (or obscured?), for when the sonic war breaks loose, you will know that mercilessness and devastation will come your way! All songs are quite melodious and mostly fast, with a very prominent groove and an uplifting energy going on. Take Serpent's Tongue, for instance. Dark-melodic and mid-tempo-oriented parts interchange with fast-paced dynamic outbursts, and there's even a slower excerpt. Yet the whole of the time, the convinced persuasion and high-energetic power remains, and overwhelms.
The sound quality reminds me of the Nineties, yet with a better mix. The production is quite rough – lovely! – with a lack of background noises yet still a filthy result. The equilibrium in between the instruments is perfectly balanced. The bass lines, for example, are so clearly audible, and that is nothing but a surplus. The strong drum patterns too are remarkably represented – not stealing the attention of all other ingredients, yet supporting heavily the result. The guitar sound comes with that necrotic buzz-sound effect within both lead parts and rhythm section. It drenches the whole into suffocative nebulae, reminiscent of the Nordic trend from the glorious past. And then those vocals, at least as necrotic, acid-spitting, vitriolic and sulphurous as the Dark Lord himself. What a grandiose throat, so grim, so full of hatred and disgust. Besides, once in a while some deep-growling throat pierces one's eardrum mercilessly too in a mostly sadistic, malignant way. Dolletjes!
As closer the band offers you their own version of The Return Of Darkness And Evil from the album The Return… Since I am a devoted Bathory fan by heart (it is because of Quorthon that I penetrated the underground of the Black Metal scene more than three decades ago – damn, I'm getting old…), I am always anxious to listen to a cover. Many times, too often, some would-be band just pathetically raped one or another song of this Swedish genius. But hey, Myrkvid wouldn't be Myrkvid if they made an infantile, ridiculous tribute. And indeed, their performance is more than acceptable. Okay, it is impossible to reach the level of… Never mind, I am glad to hear such fine cover version as closer to a marvellous recording.
Do not expect that Myrkvid have created a renewing album with Demons Are Inside. Demons Are Inside totally lacks or originality. But who the f*ck cares about that? I do not (either). No, this is a cohesive collection of pure, honest compositions, paying homage to the Old School, and there cannot be any denial or rejection – just dare to pretend the opposite…