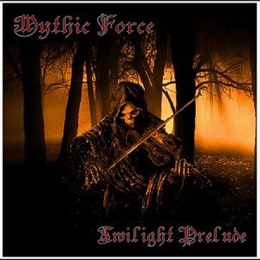 Release Date:
Friday, November 23, 2012
Founded by guitarist Broderick Gray in 1991, Mythic Force is a Neo-Classically inspired Melodic Power Metal/ Heavy Metal act from Georgetown, Massachusetts,  which did not get around to releasing alums until they did so on their own at the beginning of this millennium! One cannot by wonder how comes, as the duo teamwork of Gray and longstanding fellow second guitarist Karl Heimar is indeed a more than nice one with interchanging lead plays!
The reason, most probably, lies in the fact that all through the '90s Gray also occupied his time playing with other bands, such as Amethyst, Allegiance, Nyxx, Metal In Action, Final Prophecy, and Mass Of Virtue. Also, during '94, he studied at the Conservatory Of Recording Arts And Sciences in Phoenix, Arizona, and subsequently did an internship at Joy Productions (where he met Richie Havens, and helped on his album Cuts To The Chase). In the year 2000, and under his own name, Gray then released the solo album Mythic Realms through Fossil Records. As mentioned, MF finally got to releasing albums at the beginning of the millennium, and indeed did so with a vengeance, 2002 seeing no less than 4 releases, starting with Dark Legions and Mythic Force III (which were self-released), which were followed by Mythic Force and Mythic Force II, both released through Fossil Records (the dis-order of things, obviously due to the fact that there probably was already an agreement to release the albums with the label, which then ran into "unforeseen" delays). In 2003 then, came Sacred Vision. Again self-released, it became the band's swan song at the time. At the time, Gray was still active with Mass Of Virtue (which actually self-released its debut full-length that same year), but all of a sudden all activities fell silent, apparently!
Behind the scenes, so it seems, Gray worked on more solo material and, having founded his own label, Mythic Force Records, issued his second and third solo album (respectively titled Metal Machine and Realms Of Fire) in 2008. For his 4th solo album and 2009 release, Gray chose to issue the piano-only Serenity (it so happens that in high school years, he followed two years of music theory, following the purchase of a keyboard – which happened àfter he had taught himself to play the acoustic guitar – Hard Rock entering his life only in those later years at high school).
In late 2010 then, Gray and Helmar, with new members Joey Anaya (bass; formerly of Blood Justice, Ultimatum, and Angelic Force) and Mike Crisafulli (drums; no priors known) returned to the studio for a project that would take a full year to complete, and which is comprised of three full-length albums entitled The Prophet, Twilight Prelude, and Escape From Evil. In their faster songs, the Neo-Classical part of the music gets a rather Baroque feel, due not only to the typical note-picking (which according to the info we got along with our promo copy of the album is a flirtation with "Phrygian" scales), but also because of the clavichord sound of the keyboards, which on other tracks has a more atmospheric/ orchestral sound. Keyboards played by Gray, by the way, and the very nice vocals (kinda remind me of Manilla Road's Mark Skelton) on 5 of the 14 tracks on the album were also done by him. Still, perhaps singing is not quite his thing, and that must be why most of the album is instrumental (incidentally, 3 of the instrumentals are played on acoustic guitar only). Taking in account that Gray's earliest introductions to Metal included Iron Maiden and Yngwie (followed later by Tony Macalpine and Paul Gilbert), you have a good guess of how Mythic Force music sounds like.
If the above is however insufficient to you, you can always listen to some music by surfing to the "Sounds" section at (www.) mythicforce.com (redirects to (www.) soundclick.com, where you'll find two songs off each of the three mentioned new albums, and a couple more). If you're a lover of Neo-Classical Metal, by all means check out this very fine band!