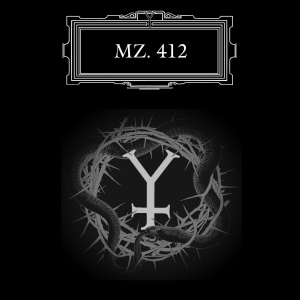 I am not about to write a huge introduction on MZ.412. I am intending to get little deeper into the history of this legendary act when reviewing the re-release of 1995's In Nomine Dei Nostri Satanas Luciferi Excelsi (to be released on vinyl in a couple of weeks via AnnapurnA). But praise the Horned Lord of Black Industrial, because Nordvargr, Drakh and Ulvtharm joined forces once more to continue their aural saga of diabolical destruction. In early 2019 we will have the pleasure to enjoy the newest album Svartmyrkr, yet until then we'll have to do with Ulvens Broder, a three-tracker that actually saw the unlight some months ago. Yet since it is never too late, and so on…
Ulvens Broder got released via one of my favourite Industrial labels, Cold Spring Records from the United Kingdom (once part of Europe, hehe…), a label that also took care of the Vault compilation (2011) or the live registration Hekatomb (2015, see http://www.concreteweb.be/reviews/mz412). It will appear as 10" LP in three different ways of colour, being white, red and black vinyl, each time in an edition of 412 copies. 412 indeed… This recording can be considered a present, a gift, to the audience in order to celebrate this band's 30th (!) anniversary (they were actually formed three decades ago as Maschinenzimmer 412, but you probably knew that).
So, Ulvens Broder brings new material on the A-side (the other side too, to be honest), starting with the title track. This is an incredibly oppressive, obscure, asphyxiating thing, believe me! It opens very lo-fi yet ultimately creepy and gloomy, based on spooky noises, darkened sounds and whispering female vocals on the background. Then, suddenly, everything turns much more orchestral, with massive synth lines and different drum patterns involved. This is so…, well, I'd like to call it 'full in sound', and it defines the aural existence of oppression. Besides, the bombastic keyboards and the percussion have a pronounced martial attitude, reminiscent of Arditi, Waffenruhe Across The Rubicon, Sophia, Bloodsoil and the likes. I definitely like this evolved approach in performance, because at the same time you sort of 'feel' the presence of MZ.412's initial blackness. The title track smoothly floats over in The Father Uncreated, which gets back to the apocalyptic approach of old. Initially minimal (yet creepy!) in essence, this song evolves, slowly but permanently, adding evil voices, industrial noises and malignant samples. It has something ritualistic, even hypnotic and spiritual (believe me: of the darkest kind!). the B-side brings a version of Algiz, reworked and reinterpreted. It goes back to the essence of this band's existence, yet hey, it comes with a majestic surprise. The vocals are done by no one else but Tomas Pettersson of Ordo Rosarius Equilibrio fame. His characteristic spoken words add such a mighty level to the wretched, uncomfortable and psychotic 'Music' (hehe, what a lapsus, a contradictio in terminis, 'music' and 'mz.412' in one phrase).
Or, to be short: if the upcoming album comes with songs like these ones, I think you might have an 'album-of-the-year', even though it has not been released yet. Until then we'll have to do with this EP. But I do not think it is a shame, a pity, to check this out. Highly recommended it is!!!