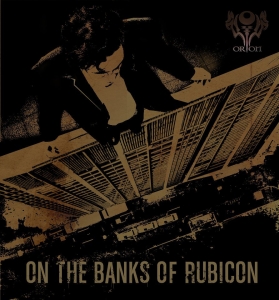 Release Date:
Tuesday, September 30, 2014
Orion, at least this one, are a band from Mumbai, India, that did release a demo in 2010 (Reverie Hours) and an EP in 2012. That EP, called On The Banks Of Rubicon, is getting a new life, once again caused by the helpful assistance of Kunal, the truly devoted guy behind the Transcending Obscurity-offices. For sure he is the guy we, in Europe, do need in order to cross the border amidst our scene and the one from India; the latter being strongly unknown and, more than once, totally underestimated.
With this EP, my remark about underestimation surely hits the bull's eye. Did you ever hear of this band, and did you ever listen to this EP? Well, I did not either. But this material does deserve strong promotion. Actually, On The Banks Of Rubicon was released at the end of 2012 by the band itself, and it consists of four tracks that last in between four and eight minutes. It stands for a very progressive form of Death Metal that breathes conviction, professionalism in song writing, eye for detail, craftsmanship and universal recognizance.
Okay, it totally lacks of originality, for everything in between Death, Opeth (anno very late nineties / earlier 2000's), Dead Eyed Sleeper, damn, you'll get the picture. But what this band makes 'better' than many colleagues is this: they make this stuff sound so naturally 'trusted'. Despite quite a highly technical approach, there is no exaggeration in performance. On the contrary, the result sounds refreshing, and those who do not necessarily 'adore' the proggy side of the Death Metal angle (yes, my dearest self, I am looking at you, eh, at me, eh… ah, skip it…) will not necessarily (re)act the allergic way. This isn't a collection of highly-progressive riffs and über-technical showing off skills, yet a truly honest and agreeable elaboration of technical craftsmanship and persistent growth.
Additional details: deep-gurgling grunts with harmonious clean vocals and some blackened screams; a couple of funky (!) bass lines; great persuasive drum loops and patterns; a massive, really cool sound quality; quite some variation in speed – all of them being those teeny-tiny elements that make the whole an interesting listening experience.