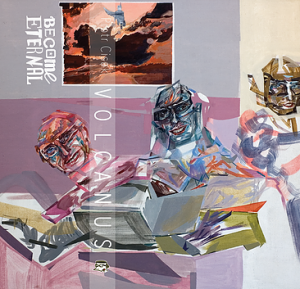 Release Date:
Monday, November 16, 2015
Piotr Cisak is a Polish musician / artist that surprised me more than once in the past. Especially the album released as Arsenne + Cisak + Oleksiński did satisfy my eardrums and brain (see update January 17th 2016 for my enthusiastic review…). Another review published recently on www.concreteweb.be is the one for the Kodomo No Hi album – see March 24th 2016 in case you're interested.
Important might be: both these recordings were done in co-operation with another Polish artist, Paweł Oleksiński. Both of them, Piotr and Paweł, did work together on tens of projects, and once again the very same goes for this newest creation by Piotr, Volcanus. The three creations on the A-side of this tape (From The Apple To The Egg, From The Founding Of The City and Remember To Keep A Clear Head In Difficult Times) indeed feature Paweł, while the sole composition on side B, 1986, is a collaboration in between Piotr and Tomasz Mreńca; both of them worked together before too, in projects that did include Paweł as well, by the way.
Anyway, Volcanus was recorded in these guys' home country (actually in both Gdansk and Wroclaw). The material was mastered by Piotr, and the cassette edition sees the light via the strange label Become Eternal, which usually does not release my cup of (poisonous) tea. The weird artwork and layout were done by Bartosz R. and Joanna K. respectively.
The three compositions on the A-side bring ambient-laden droning creations, mainly based on acoustic and electric guitars, with subtle yet prominently present additions of Noise (once in a while a sharp shriek scares up the journey in the opening track, and what about the limited yet undeniably important Power Electronics elements in From The Founding Of The City) or other bizarre elements (like those final seconds on From The Apple To The Egg). The atmosphere is both dark and light, quite dreamy and hypnotic, balancing in between the minimalism of vast emptiness and a warm and full richness of sound. A track like From The Founding Of The City, with that repetitive yet mesmerizing guitar melody and the oppressive, even uncomfortable zooming drone, surely defines this explanation.
1986, the longest piece (clocking fifteen minutes), is strongly comparable, yet it comes with less extravagant and extravert moments. This piece is like a self-progressing organism, drawing its life temper out of a rich soil of aural elementary details, reaching out for an explicit nature of sonic elegance.
So, once again Piotr maintains to show a glimpse of his creative sonic craftsmanship, once again helped out by some same-minded and equally-experienced musicians, with a result that will be hugely appreciated by a worldwide (open-minded) Drone / Ambient / Minimal audience.