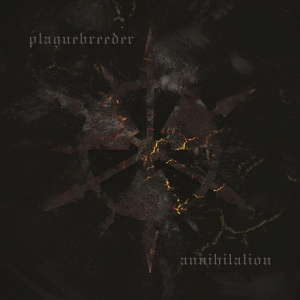 Release Date:
Friday, November 20, 2020
After the Lahti, Finland based act Avafrost split up, some of its members decided to continue spreading their word of joy and peace, so they did form a new act, Plaguebreeder; the moniker of this band being at least as sweet and tolerant as the message they want to bring. …quite prophetic back then, quite topical too lately. Indeed, with poems dealing with human extinction and post-nuclear devastation, their message is filled with cheer and mirth.
After some demonstrational recordings and an official digital single, this band, consisting of original members Ardeath (bass, keyboards and vocals) and Kalmisto (drums), plus newly recruited guitarist Klaath, teamed up with one of the most influential labels from the Land of a Thousand Lakes, Inverse Records. The result is a five-tracker, available via digital sources, which does include that previously released single (I Believe In Misanthropy). The result brings twenty-three minutes of dreamlike ear candy…
Annihilation opens with Dawn Of The Thermonuclear Era (Intro), a majestic and pregnant introduction to the end of mankind, caused by our own hands, i.e. the explosive extermination by thermonuclear force. The short piece is based on a bombastic Martial Industrial Ambient foundation (you know, in the vein of Puissance), joined by a spoken world passage.
Samples, both spoken ones or taken from other pacific sources, return throughout the whole album, yet from sonic point of listen, things change with the first 'real' track, The Root Of Extinction. Like a pyroclastic outburst, Plaguebreeder's malicious uproar truly devastates. A huge layer of technical and melodic strings, thunderous drum-blasts, and ingenious post-apocalyptic synth orchestrations are molten like a meltdown into one devastating sonic attack. But in some way, these brutal noises are performed with a magic finesse. The band knows to put a lot of variation into their Musi(c)k. even though this piece last for 'just' 3:36 minutes, it seems like a huge adventure. There are a couple of subtle breaks and changes in tempo, yet also the combination of mostly ultra-deep, guttural grunts and some icy blackish screams in a well-balanced equilibrium somehow adds that monumental feeling of adventuresome yet impending doom. Fire!
A cool element is that the material varies as well in between the tracks. I Believe In Misanthropy, for example, is much more down-earthed, although it does not lose to aggression or heaviness. This thrashing piece has a pounding rhythm, the blackened vocals are more represented, and the keyboards cover the whole into that subtle, yet at the same time grotesque, touch of asphyxiating nebula.
Children Of War opens with a short sample of sweet sounds of universal peace, before continuing with the full-force mixture of bombast and sharpness. The main guitar riffing maintains that melodious approach, which is quite satisfying in combination with the pounding and blasting intensity of the rhythm section. Here too, Plaguebreeder show their ability to introduce subtle variations in tempo and structure. And the orchestral keyboard passages make the whole experience almost 'beautiful'.
The last piece, which clocks almost ten minutes, is like the summary of Annihilation's previous laments. The Arrival Of Fire aggregates devastating drum patterns, death-heralding grunts and grim screams, mesmerizing synth lines, versatile guitar riffs, and so much more. There is a lot to experience, when harsh eruptions interact with decelerated moments, when apocalyptic passages get interrupted by cinematic symphonies of biblical proportions (the doomsday ones, evidently).
The sound quality is of high quality. This twenty-three minutes recording rumbles and thunders, like an atomic detonation, but somehow it does not sound messy at all. The mix of all instruments is well-balanced; not one single instrument or voice is inferior to the whole concept. The whole performing section gets canalised into that huge story of earthy catastrophe and divine misanthropy. Yet at the same time, you have the necessary rough-edged production too, lacking of any form of fake decency (read: surgically clean chastity).
https://www.youtube.com/watch?v=r5PzV3fnZ0Q