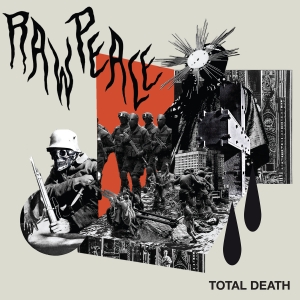 I am, to be honest, not that much 'into' Hardcore / Punk / D-Beat. Okay, I can appreciate it, but I am not exactly a 'fan'. However, the Belgian (or in extension: the whole Benelux) scene might be underestimated on international scale, but there is a very vivid and strong upcoming scene going on. Actually, that's the case since decades, yet lately the scene exponentially sort of explodes.
Enter 2018, welcome Raw Peace from the Flemish city of Ghent. Raw Peace are 'the sonic equivalent of a rabid pitbull on a rusty chain in an echoing, dirty back alley'. Sweethearts indeed they are. The quartet (bassist Bert, vocalist Stijn, guitar player Koen, and drummer Tijs) consists of members known from e.g. Agathocles (indeed), Reproach, Uitschot, Haemers, Imaginary Dictionary and Blind To Faith, and last year they debuted with the demo-EP Hand Of Death. The band played live a lot, which increased their (local) fame enormously. Time for another studio recording, they were thinking, and here we are with their first 'official' studio release, smoothly called Total Death.
Total Death is a violent assault with short yet highly impressive noise eruptions. Seeking and finding its root within the D-Beat / HC scene from the Eighties, the quartet brings a refreshing and contemporary mixture of chopping D-Beat and Metallic Hardcore, injected with a lot of Crust-Punk elements and even some details that are not exactly a stranger to the (American) Thrash Metal scene. Yes, this four-piece brings more than 'just some crusty sonic terror'. Cool is the universal approach. This stuff cannot be limited to one or another specific scene, because the song writing and execution overrules the limitation of borders.
The members are clearly skilled, and motivated / enthusiastic. …and they do interact so organically. The instrumental side grooves and hammers, and because of the nice production and well-balanced mix, all of them are equally audible. Their play rocks, filled with an energetic power and a DIY-attitude. This goes for the leading parts (enjoy the few f*cked-up leads!) as well as the taking-no-prisoners rhythm section. And Stijn's vocals, with that 'hollow-echoing' effect and that rusty rawness, spread the band's message with conviction for sure.
Okay, what if I did mention His Hero Is Gone, Kaoos, No Security, Wolfbrigade, G.I.S.M., No Power, or even Nuclear Assault, Discharge and, why not, The Exploited (!)? Indeed, Total Death reeks of putrid / putrefying magnificence, haha, so smell the stuff!