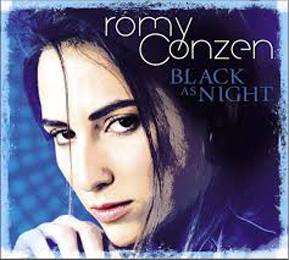 You know, it's amazing how, even in a small country like our own little Belgium, some albums can be laying around in stores for quite a while, before the media pick up on it. This very record came to our editor-in-chief through the help of a friend, whom felt the need to help out the artist somewhat. Well, let's look at what's in store here, shall we?
Born in Eupen (in the German-talking East part of Belgium) on the 26th of March, 1988, Romy grew up in a family with a Belgian father and a Dutch mother, and as a result speaks French and Dutch quite fluently. Through her environment and schooling, she also speaks German and English fluently. She was attracted to music at an early age, and started to learn music theory and classical guitar. Passionate about Pop and Rock, she made her first steps on a stage, performing at school events and song contests. Then, at the age of 18, and accompanied only by her guitar and warm and distinctive voice, she started to perform in several venues, singing both covers and original songs. At the same time, she began to study Classical Guitar at the Conservatoire Royal de Musique in Liège, from where she got a Master of Music in Education.
Her story cannot be told without saying something about composer/ bassist/ recording engineer and producer Dany Huppermans, whom started the VMV Music record label (with the help of financier Sandro De Angelis) in an effort to give deserving European talent the kind of boost which the release of an official album would give them. Dany now, is no unknown entity within the Belgian Rock music scene. In 1984 he formed the band Init, which went on to considerable success within our country's underground scene. From 1985 on, he became an in-demand session bassist, and later started picking up producing as well. Capitalizing on his success, he built his own Init Studio at a location near Liège, and within a few years bands of all genres (Rock, Reggae, Punk, and even Metal) were traveling from all over Europe to record at his place. Thanks to his growing reputation, Dany became affiliated to such renowned international record labels as Holland's Runn Reggae, the UK's Mad Professor, and Jamaica's Barry O'Hara. Having operated from Liège for 25 years, he moved to Los Angeles in 2008, where he was recruited by Russ Regan's Velocity Entertainment to work with London Indie band Lato. After that, he worked freelance with bands in London, Paris, Amsterdam, and even Marrakesh.
However Romy and Dany came to get in touch with each other, is a question I couldn't find an answer to, but certain is that the two went into an intensive collaboration, together composing the music (with some occasional extra help from the guest musicians), with Dany fixing for Alex Lato to help Romy out with her lyrics (one exception being the song "Just Be Free", which she wrote the mostly French lyrics to with the help of one Fatima Khattou...and that made me look into the lyrics a little more attentively; for sure, there's a worthwhile statement here, so check it out!). Eventually, the album was recorded at several studios (guitarist Robby Mildenberger recording his contributions to 7 songs – plus bass on 5 of 'em – at Köln based Aha Studio), with session musicians Alex Vesper on drums, Christophe Genette on strings and piano (and additional keyboards – on 3 tracks), the aforementioned Robby Mildenburger, and additional guitarist Jean-Paul Devox (whom contributed on 4 tracks, sharing also in composition on all of 'em). Dany eventually, also contributed bass to 5 of the songs.
The end result, is something which needs to be listened to a couple of times in order to be fully appreciated. At least, that's how I personally experienced things! You see, at first listen Romy's voice seems to be rather frail, especially in the more Rock-based songs...but that's a faulty impression one gets rid of swiftly after a third session with the album. At the end of listening to the album a couple of times, one can only conclude that Romy has a very nice voice indeed and by then, you will also have started to appreciate the nice undercurrents brought in by the guitarists.
A question I'm left with, is how Romy was even capable of promoting the album's material after the album's release...because normally, she'll perform solo, accompanied only with her acoustic guitar! Who knows, perhaps there hàve been some electric shows back in those days, but at the moment, Romy's performances as quite acoustic indeed. From what I've read, those performances are quite worth attending, so if the material posted at (www.) facebook.com/RomyConzen or (www.) reverbnation.com/#!/romyconzen (same material : no less than 9 of the 11 songs on the album!) is to your liking, maybe you'll consider goin' to watch what this cutie-pie is worth in a stripped-down (hey...nó pun intended!) acoustic environment. At any rate, the album is worth getting a forefront in your collection of female-fronted Belgian Rock bands! Sure, there's a slight Pop angle to some of the songs, but that ain't bad, is it?