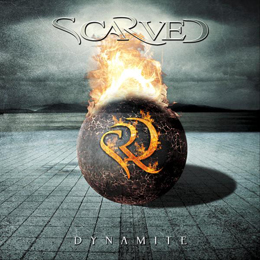 Believe it or not, but ScaRveD is a rather recent addition to the Belgian music scene.  This female fronted band started in 2012, and brings us music that sits halfways between heavy metal and hard rock.  'Dynamite', their debut album, was already released in July 2014, via the Greek label Sleaszy Rider Records, and release by the band itself was in September of that same year.
What can I say about this band. First of all that they've listened very well to other bands, like Van Halen, Motörhead, Black Sabbath to name but a few of them, going so far as more or less copying parts of these bands into their music.  But combining influences from such variety of bands onto one album, means that the album is very varied in styles, resulting in a good album, but leaves the band into void if style of music is concerned.  You can simply not say that they play or resemble to that of that band.
I have no bad word to say about the musicians though, who, besides the vocalist Caro – short for Caroline Verboven, who started out in the dance world with K-Line have a long standing career, either in a band or coverband, or as studio musician. My opinion about this band : It's a welcome newcomer on the Belgian scene, and I hope their next albums will show more of an own identity, but as a starter this is nice.