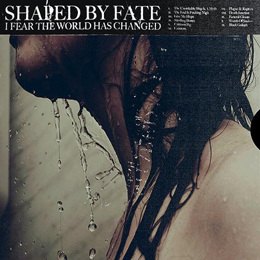 Album Title:
I Fear The World Has Changed
This South Wales based 5-piece Metalcore act was founded in late 2001, has since released a demo, 2 EPs, and a preceding debut full-length, and have toured ll over the UK and Europe with the likes of Parkway Drive, Suicide Silence, The Chariot, Everytime I Die, Becoming The Archetype, Bury Your Dead, Raging Speedhorn, Funeral For A Friend, Crowbar, and many, many more...
Having started out with line-up consisting of singer Ben Duffin-Jones, guitarists Richey Beckett and Luke Grahame (the latter plays left-handed, although he is right-handed : after a windsurfing accident which cost him a finger on the left hand, he flipped the guitar over and re-learned to play the guitar all over again), bassist Lee Jenkins and drummer Gareth Eveliegh, first issued a self-titled 2002 demo, then had some minor line-up changes (drummer left, to be replaced by one Nic Smalls for a short while during 2003, after which Owen Weeks – formerly also of Burning Skies, Losing Sun and Adequate 7 – took over...until 2005, when he left to become a surgeon) and released their debut official EP (actually a split) The Fire Which In The Heart Resides through Mighty Atom Records in 2004. The band followed that up with the EP Brightest Lights Cast The Darkest Shadows a year later, this time through Beniihana Records (I'm not sure whether Weeks actually lasted that long, at any rate he was replaced in 2005 by Jay Thurley). Both EPs got the band rave reviews, with cult mag Kerrang! Ranting , "...some of the tastiest, heaviest, most shredding Metal this island's seen in a long time..." and lauding the band as "the future of British Metalcore"! 2006 saw the most important line-up change in the band, as the singer was replaced by current frontman Paul Fortesque. One year later the last line-up change occurred, when current drummer Carl Richards joined the band's ranks. Also in 2007, the band released it's debut full-length album The Unbeliever through the famed In At The Deep End Records (known from having released work by now established acts such as Architects, Gallows, and Send More Paramedics). In 2008 the band issued its first official video clip for the track "The Told Me You Were Dead", and during their tour with Parkway Drive later that same year, they recorded footage of what would later become their limited edition DVD Riffage And Wreckage. In early 2011, the band signed to the Siege Of Amida roster, which eventually leads us to the album at hand.
And when we listen to the material (11 scorching tracks) on that album, we easily come to the conclusion that besides containing the obvious Hardcore affinities, the band's music also contains clear evidence of elements from Technical Death Metal, even Mathcore...and Progressive Metal. Harsher passages are easily alternated with calmer ones...which had me thinking of comparisons such as early Neurosis, and Will Haven, amongst others. Meaning the singer shouts and screams his head off with a certain meanness to it. According to the info sheet I got with my download copy of the album, "...the world is not a place SBF are happy with...", but I sure love the band for the way they're letting everyone know about it! To find out whether yoù are likely to feel the same, check (www.) myspace.com/shapedbyfate (I'm sure you'll find links to further audio-carrying sites there as well)!
Meanwhile, working retro-actively, I'm simply adding this album to my 2012 year-lists!