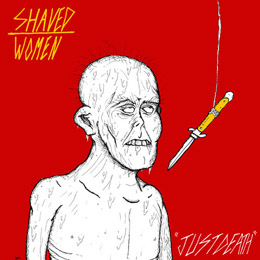 When I first heard the music of this band [and regrettably that was already a couple of months ago, but all kinds of elements – such as conditions at work (where I gather the extra info needed for my reviews) worsening, new batches of releases delivered to me by the editor-in-chief containing stuff taking priority, getting ill a couple of times, and generally having less time (again due to work conditions weighing thru') – have delayed my starting on this here article], I could not help, for some obscure reason, thinking of a somewhat raw version of UK's Amebix.
As it turned out, I was thinking from the wrong continent. Well, the "bio" sheet which accompanied the download promo of the album gave no inkling of info as to the fact that the band is from St. Louis (MO)...where singer Ben Salyers, guitarist Chris Eck, bassist John Birkner, and drummer Tom Valli started the DIY Hardcore Punk outfit at the end of 2009, taking their name from a Crass song. Musical influences however, apparently came from Black Flag, Drunk With Guns, and Jesus Lizard. The quartet debuted their recorded outcome soon after their formation with a self-titled 4-track 12-inch album, which was released in January 2010 through Chicago's Rotted Tooth Records. They subsequently worked their way through their hometown in true DIY fashion, playing more basements than actual venues, and took their time recording their sophomore release, the 3-track EP Static (released on the equally Chicago-based Pass Judgment Records on Dec. 31, 2011). Exactly one year later (to the day) saw the release of the band's second self-titled EP, this time a 3-track 7-inch EP released through St. Louis' Apop Records, where Salyers also works. Prior to that, the band had already broken out of its strictly local status, playing shows outside of the Midwest, and even succeeded in charming WFMU radio dj William Berger (out of New Jersey) to their style of music. In fact, when the band contacted the dj about a tour they were undertaking in mid 2012, he was but too happy to book the band for a live-in-studio show, a show which was subsequently released on on the Live At WFMU cassette. Some time later, the band also joined forces with Maximum Effort, releasing a split single on which SW would re-hash their song "Circles" (off their first EP).
So...at some time the "word of mouth" about the band reached the people at Ektro Records, and the latter approached the band about re-issuing the debut EP along with the material off the live cassette tape, which the label issued on CD (release date unknown, for non-researched – sorry!). In April of 2014 then, the band digitally released a cover of the Rorschach song "Drawn And Quartered"...but all of the above was eventually but a preparation for what people on several continents were by now eagerly waiting for : this, the band's debut full-length release! Well, you can take the "full-length" with some salt (and pepper, depending on your own culinary tastes, hahah!), because the 9 songs featured only last a mere 23 minutes...and leave the listener wanting for more. Because what SW brings, is a highly effective and catchy type of Hardcore! Angry overall, but nevertheless each element of the music succeeds in coming together for melodies which grab the listener by the throat, causing him/her to start slamming into whomever is next to her/him in a rhythmically tribal way which seems quite chaotic, but isn't! The true spirit of Hardcore Punk revived?
A couple of songs off the album are of course posted at (www.) ektrorecords.com, and a third one is posted in the "Timeline" section at (www.) facebook.com/pages/ShavedWomen...where the "Music" section will re-direct you to the album's page at Bandcamp (whence you might also get acquainted with the band's 2 EP's, and the Rorschach cover, if everything works according to expectations). As an end conclusion, I can only say, let's entice this band to feed us more of it's music soon enough!