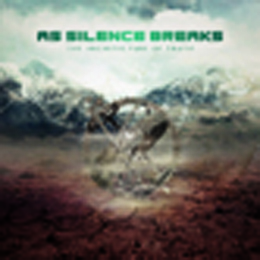 Album Title:
The Architecture Of Truth
This Metal band from Sydney, Australia ("Metal" is really the word used in the opening lines of the info sheet we got with the download promo copy of the album) was started some 6 years ago, went through some line-up changes (current membership comprises lead singer Sam Rilatt, guitarist/ second singer Ben Irwin, guitarist Dan O'Brien, bassist Kiel Stranger, and drummer Reece Kirby). In early 2010 they signed onto the independent Australian record label New Justice Records, who released the band's self-titled debut album shortly after.
Since then, things have been on the up for the quintet. Besides putting out video clips for two tracks off that album, the guys saw themselves honoured by the International Association For Independent Recording Artists, who handed 'em an International Top 40 award. They shared stages with big names in the more extreme regions of Metal music (including Darkest hour, Carniflex, Periphery, TesserecT, Whitechapel, and For Today), toured Australia a couple of times (for instance, as support to For The Fallen Dreams to name but a few), and were voted by their fans to play at the Taste Of Chaos event in Sydney, for two years running (joining the likes of Killswitch Engage, The Used, Thursday, Story Of The Year...and many more...on the same stage). In April 2011 the guys signed onto American management agency The Inner Light, and they have secured sponsorship from the likes of Monster Energy Drink, Orange Amplifyers, Dean Guitars, Sleishman Drums, TRX Cymbals, Axis Drum Pedals, inTune Guitar Picks, and Lamplifyer Microphones.
In essence, the band was successful enough to self-finance the recordings of their second album, for which they hired the Lambesis Studios (owned by Tim Lambesis, frontman of As I Lay Dying) and the services of renowned engineer Daniel Castleman (known from having collaborated with the likes of As I Lay Dying, Carniflex, Sworn Enemy, Winds Of Plague, and more) in November of last year. The material was then sent over to Alan Douches at West West Side Music in New York to be mastered. Douches is somewhat of a legend in mastering these days, not only of albums in the Extreme Metal world (see albums by Cannibal Corpse, Deicide, The Black Dahlia Murder, and Unearth, for instance) but also in the Punk and Hardcore world (for instance, Belgian's own Homer, and more bands on their Funtime Records label). Evidently, the man being so much in demand, it took sóme time getting the material mastered...but then the result stands like a two-foot walled, one-storey house!
Meanwhile, ASB did not loose time. As they were over in California anyway (the studio being in the South of that state, less than 50 km North of San Diego...in fact only 65 km from the flamboyant Mexican border town Tihuana), they spent December of 2011 touring across California, Nevada, and Idaho... and prior to the release of the album, the band was on tour again supporting Sybreed in Australia during March and April of this year. Evidently, since the album's release they have not stayed inactive, but I'm afraid I found no info on that (my access to the Internet is somewhat limited these days).
From the above, you may have gathered that ASB moves in the regions of more extreme music, and indeed somewhere in the info sheet's text there's the sentence, "...As Silence Breaks' sound is a solid mix of Heavy Metal, Melodic Death Metal, Thrash Metal, and Metalcore..."! That latter inclusion in the band's sound definition at first raised an eyebrow on me, because Metalcore is by original definition supposed to be a blending of Extreme Metal (Death, Black, or even Thrash) with Hardcore. However, after listening through the album they just delivered, one must indeed agree with what's written in that info sheet. The band does its best to confuse the listener though, as the first two tracks ("Litany Of Fear" and "Decimate") finds vocals being done the "extreme way" only...and it's only from third track "Freedom" on, that cleaner vocals are occasionally added, and the connection to modern-day "Metalcore" is drawn. The guys succeed in combining their Extreme Metal with groove and melody, and thus succeed in creating memorable music which has the listener grabbing back for more after having sat through the album's 12 songs. That, at least, is the effect the music had on me personally. Find out for yourselves how it works on yoù, by checking (www.) assilencebreaks.com, (www.) facebook.com/assilencebreaks, and/ or (www.) myspace.com/assilencebreaks for possibly available music!
If that inspires a hunger for more than the two albums the band can offer, and you'd like to see the band in live conditions, let me tell you that such is well within the realm of possibilities. Having toured Australia during September and October of last, the band heads out to Asia next. In early 2013 the quintet will be doing an extensive tour throughout the USA, and midway the next year they are heading out for Europe, having recently teamed up with booking agency Full Metal Service.
Meanwhile, I remain guilty in giving you my final assessment of the band & album, and I'm afraid I need to tell you that this is a must-buy for not only fans of such Melodic Death acts as (so sited in the info sheet) At The Gates, As I Lay Dying, Soilwork, In Flames, and Unearth...but also for those into the current Metalcore genre. Bands like Killswitch Engage definitely come to mind, somehow...even if ASB is somewhat...let's say héavier!? Anyway, this is fodder for the year-lists, yoh...