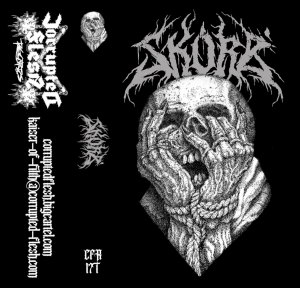 As fast and fierce as this demo, the fast and fierce this review will be.
Skorb are a very young four-piece formation that hail from Russia (St. Petersburg), and they recorded a first demonstrational EP in Winter 2019-2020. This material drew attention of Germany's Corrupted Flesh Records, ergo: decent release of these four lullabies on cassette format (limited to one hundred copies).
What can you expect? Well, these anonymous human entities play a form of very old-schooled Death Metal with a sound that reminds me a lot to Nihilist, i.e. the low-tuned guitar riffs, the down-earthed bass lines, the deeply-gurgling throat and the pounding drum patterns.
But… Skorb are more than just some Entombed'y clone for sure. Okay, it is evident to notice their main sources of inspiration, yet the addition of elements from Doom-Death, you know, the most filthy way, and even some Black / Blackened Death Metal (vocal-wise, as well as via some string-parts or drum-patterns), results in quite an own-faced reality. Besides, their atmosphere is truly dense, oppressive, obscure, even suffocative, and I guess that acts like Incantation, Suffocation and Immolation at the one hand, and Ulcerate, Portal or Antediluvian at the other, did influence this quartet's raison d'être.
There is quite some variation in speed, with a mainly fast-paced basement, including quite some blasting excerpts at the one hand, and several doomed-up chapters too. That equilibrium, which sounds, by the way, very organic (!), is one of the strengths of this mini-release. Another excellent detail is the fine balance in between harshness – and I am referring to truly devastating parts – and a certain melodic execution at the other hand. For what it is worth, I also think that the dense, oppressing, obscure execution isn't but a surplus! And that, finally, goes for the massive production too – simply devastating, overpowering, like an avalanche, a tsunami of noise…
Skorb are currently finishing their official debut full-length, which will be a vinyl-only release to be released in early 2022 via this very same label, Corrupted Flesh Records. It's evident that more info will follow soon, as soon as that one is available! Until then, this untitled demo-EP is recommended – nope, not 'recommended'; it's like a necessity for all OSDM-freaks all over our beloved globe!
https://corruptedfleshrecords.bandcamp.com/album/skorb