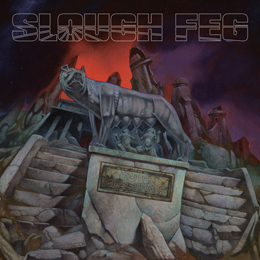 Release Date:
Friday, February 14, 2014
Slough Feg is a heavy metal band formed in Pennsylvania in the early 90s. Current members: Mike Scalzi (Guitars/Vocals), Angelo Tringali (Guitars), Adrian Maestas (Bass) and Harry Cantwell (Drums). According the definition of the group: 'has a style that's best described as an eclectic mix of Celtic Folk and Traditional Metal peppered with buckets of energy and lyrical depth'.
"Digital Resistance" their 11th album. As opener "Analogue Avengers" sounds like an old Irish folklore song and some pirate influence. Than the second title-track "Digital Resistance" with more power and nice drum rhythm. "Magic Hooligan is more the sort of metal I like and used to hear of them. Nice Riffs from Angelo and the same nice drum rhythm. "Ghastly Appendage" not bad at all, with nice guitar riffs playing at the end. "Curriculum Vitae" start with a nice guitar crunchy sound. Not bad at all nice cd I was not expecting some great numbers of this group.