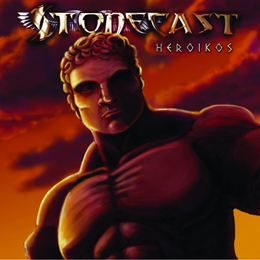 Release Date:
Tuesday, November 12, 2013
Stonecast are: Franck "Kanon" Ghirardi (vocals), Seb "Cazu" Casula (rhythm guitars), Bob "Flying" Saliba (lead guitars), Lionel "Beev" Antonorsi (bass) and Kenny Earl "Rhino" ex-drummer Manowar.
A French band formed in 2002 in Marseille with some influence from Iron Maiden, Iced Earth, Blind Gardian and Manowar, but the hold their own identity and modern approach.
"Heroikos" contains 10 numbers with a good melodic heavy and power metal content. "Jakuta" first song nice guitar riffs and a great voice from "Kanon" yes a voice like a hurricane! "The Barbaric Rhyme" a Galloping guitar riff with a touch of Maiden chorus. "Substance" a ballad with classic guitar and a touch of slide guitar, nice duet. Even the slower numbers are nice pieces instrumental and mostly classic guitar, not bad at all. "Gods of Dust" is a little bit odd an original song with nice riffs and great range of "Kanons' voice! To close the album "Savage Princes" a very Manowar like soung. It is a good heavy metal cd, but no "wow-feeling".