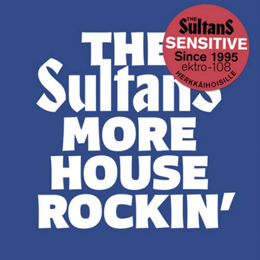 Album Title:
More House Rockin' And Other Boogies
This minimalist instrumental Boogie Blues act is the brainchild of Laja Aijala, formerly the singer of Terveet Kadet, one of Finland's more infamous Crust Punk acts, and obviously quite a change from what he did with his other band.
The project was founded in 1995 with his brother and one Lene Leinonen (those filling in the positions of drums and bass – stand-up perhaps?), and as far as I've been able to gather (because there's virtually no info to be found on this obscure act, which so far was apparently meant to be a local thing) they thus far released two albums, Ulkona Nyt and The Sultans...both on LP (vinyl), both of 2009 vintage, and both released through the Sporting Life Records label (of which no existence can be found on the Internet – I'm guessing it was a short-lived label originated by the band itself). Funny detail: the band is based in the town of Tornio, which is situated in the delta of the Torninjoki river. Nothing funny about that, except that I found out that the river substitutes the Southern separation of Finland (with Tornio) from Sweden...and that up north, the separation of the two countries is continued with an interlocking of other waterways! Hum...the odd bits one learns when checking out bands, eh!?
With no info to the contrary, I'm guessing that the double CD compilation released now by Ektro, probably compiles a series of studio recordings done since the releases of those older albums. If I'm getting my jah-jahs straight, the first disc contains 12 studio tracks which were properly recorded, these adding up to a total of almost 37 minutes of enjoyable listening experience (working on the premise that this type of music can tickle your fancy, of course). The second disc opens with 7 live recordings (of pretty high sound standard, I must say), and then gives us four "bonus" tracks, which may have been recorded in the rehearsal room (info lacking, I can only presume, you know!), but which have a sound quality which makes 'em indiscernible from the material on the first disc, really.
To those who càn find pleasure in listening to instrumental minimalistic Boogie Blues, I suggest you surf on over to Ektro's website (www.) ektrorecords.com, where two songs off the albums are posted. The band also has a MySpace page (which as per usual I have not checked), and there's also some live video footage of the band on YouTube.