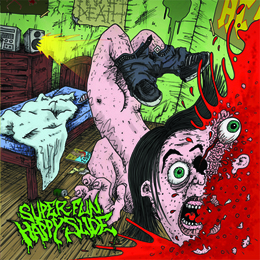 Album Title:
Drop Your Pants And Grind
Release Date:
Wednesday, September 24, 2014
I seem to remember an episode of the popular cartoon series The Simpsons, in which Homer travels about the USA with the famed festivals tour Lollapaloosa as a performing artist catching a cannon ball with his stomach. If I ain't mistaken, the "super fun happy slide" (nothing more than making a belly slide through mud, really – something first documented and later televised in footage from the famous first Woodstock festival) was introduced in that same episode. And whether the Melbourne based Australian Grindcore outfit its their name from there, is certainly not an impossible thing to imagine!
At the beginning, which is commonly placed somewhere in 2002, SFHS was a one-man thing for drummer Brad, whom at the time lived on a farm in Heywood. He released the first self-titled 8-track demo cd-R in 2004, and then moved to Melbourne, where the project evolved into a real band with the addition of singer Nik (no extra-curricular activities known by this reviewer), guitarist Den (then already a veteran in the scene, playing with Warsore), and a bassist named Clarky. This early line-up of the band recorded and released the 7-track Super Fun Happy Slide Rehearsal Demo cd-R in 2005. Clarky then departed from the band, to be replaced by Benny (also of Garbage Guts) in 2008. On the latter, a cover of Napalm Death's "Deceiver" disclosed one of the band's main influences (the older material of said band...say Skin, and say no more!)...additional cited influences (as posted at the band's facebook page) being Unidism, Warsore (not surprisingly, as the band's guitarist is from that band), Regurgitate, Last Days Of Humanity, Arse Destroyer, Slayer and, surprisingly (because they's a stone-thrown away from the rest, stylistically), AC/DC!  Somewhere along the line, Brad took up playing guitar with the band Infernal Rot (in all honesty, I forgot checking when that started). With the new line-up in place, the band got around doin' quite some shows in the Melbourne area, making a good reputation for themselves in the process!
In 2009, SFHS finally got 'round to recording their debut "full-length" (considering the average playing time of a SFHP song, it most probably, say most certainly, didn't even come close to half an hour!)  album The Undislodgable Nugget Scenario, which was released through the Czech label Bizarre Leprous Production. Besides 15 original studio tracks, the release again included a cover of Napalm Death (this time their "Retreat To Nowhere"), as well as three live tracks ("Super Fun Happy Song" and "The Day Everything Became Something" originally studio-recorded onto the band's first demo, and the previously unreleased  "Napalm Shower"). Since then, no more news about the band on the recording front, but apparently they worked themselves up to the forefront of the Australian Grindcore scene, where they stand proudly among the likes of Fuck I'm Dead, The Kill, Roskopp, and Captain Cleanoff.
On their sophomore album, SFHS churns out no less than 23 tracks (among which of course a cover of Napalm Death, this time their "Prison Without Walls"...and covers of Ergosid's "Homebrand Holocaust" and Pop masters Libido Airbag's "Clit Cannibal") in just under 24 and a half minutes. Now this band is Australian, and the guys make that perfectly clear by using samples from the continent's most popular and longest running (my lord, I dó believe there's re-runs of it still happening to date) television series Neighbors, in four songs (with two other samples taken from some radio show which played a song by the band, and the last one from a source I cannot put down at all!). With all of the above, and considering that some of the song titles are simply hilarious, you would be wrong to consider this band being a joke, for the music they make is darn catchy, and any fan of the genre will easily find himself listening to the album 5 to 10 times in a row (wouldn't want to exaggerate, but these guys àre that good!) without even getting a feeling of getting bored by the offering!
Thanks to a review of the album by Braindead Zine, posted 10/05/2014 in the "Timeline" section at the band's page on facebook (browse for it yourselves, this time around), you can listen to the complete current album. The band's older material is also to be found, when you scroll down even further down that same Timeline (the debut album is posted on 17/04/2014, and the rehearsal and first demo on 31/12/2013). Go check it out now!