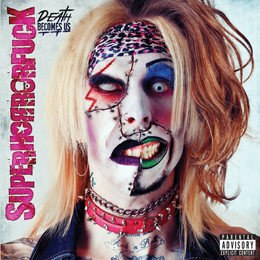 Release Date:
Friday, September 13, 2013
This North-Italian band was founded in 2005, when the 4 members of the act previously known as Morphina decided to gear their music in a different direction, namely a Glam/ Sleeze Rock/ metal with lyrical "horror" elements.
In that original line-up, the band finally released its debut album Horrorchy in December of 2008. One year later, they added a 5th member on additional guitar & backing vocals, and as such went on to release the full-length Livingdeadstars (October 2010) and the EP Gore-Geous Dead, in December of 2012 (if I ain't mistaken, that was also the band's debut on logic(il)logic). In early 2013 the members went into some individual soul-searching, and a s a result 3 of 'em left, leaving the lead singer and bassist/ backing singer to find new members. These were eventually found, and as a result the band's newest output is said to be of increased intensity. Thus far the band's story, in a nut-shell, as translated from the funny short horror story I got as info sheet, and additional info from my regular sources. For those interested in the band's own story, by all means read the following paragraph.
2005, October 31st. Four guys, members of a band called Morphina, are driving through the woods of Desperation City, towards a pub where they were supposed to play for an Halloween party. The fur guys never reached their destination, their car crashed mysteriously and their bodies never found...instead of them, four fresh dead corpses reached the pub, they called themselves Superhorrorfuck. – December 2009. A police sergeant who was still investigating on the Morphina case mysteriously disappears himself...some days later Superhorrorfuck present their fifth member, Sgt. Anubis. – 2013. After 8 years of disgusting live shows and two albums released, Superhorrorfuck conquered the complete control upon their dead bodies, but something unexpected is waiting for them... Voices, images, memories of their previous lives start screaming inside their heads, and the five guys realize that the bodies they're haunting don't belong to them but are only the dead shells in which the emotions and memories of the previous owners are still alive. And so they begin a terrible inner battle... Only two of them win this battle against these "ante-mortem pictures"; indeed, Paghalloween, Littlebomb and Sgt. Anubis decide to go back to their previous lives, exorcizing the evil sould whom were haunting them, and Dr. Freak and Mr.4 begin immediately a gruesome process of new members enrollment, through blood, death and strange demonic rituals. – Once again Superhorrofuck rise from the grave, even dirtier, naughtier and horny than before, with a new album Death Becomes Us, and a new line-up, comprised of Dr. Freak (lead vocals), Mr.4 (bass & backing vocals), Deadly Buckz & Izzy Wyldhell (guitar & backing vocals) and Franky Voltage (drums & backing vocals), is ready to spread the Word of Horrorchy on the stages all over the world and, of course, in your best nightmares...
In fact, the new line-up did it's debut gig at an secret location a week prior of the album's release, on September 7, and started their Deadly Beautiful Tour of gigs in promotion of the album on its release date. As mentioned earlier, the band's music is a Glam/ Sleeze Rock with Metal intensities and lyrical horror elements. The guitarists display a nice interaction, which makes for music which can be appreciated by more seasoned listeners, and the amount of backing singers makes for a great sing-along factor, which should go down well with "The Kids" who come over just to have fun! Before I forget : the album features some guest appearances, with Vikki Violence and Dikk Bortner of London based Hellfire Club helping the band out in the song "Break Your Shit", and Easy Finger's Frenky and Caste doin' their thing (don't ask me what that is, though), on the album's closing track, a "Holy Bullshit" remix of the band's older track "Holy Zombie". Regretfully, I was not able to find you music off the new album, as the music player at (www.) logicillogic.net only displays two songs (and from the titles – "Pissing On Heaven's Door" and "You Can Keep Your Head On"...) off the Gore-Geous Dead  EP (...I can guess that the EP was in fact a sorts of covers thing). Try to find the album at one of your trusted online sales sites (you know, Amazon, iTunes, etc...)...they usually provide 30-second samples of the songs on an album, and that'll at least give you an idea of the new musical intensity (as compared to those two tracks found posted at the label's site).