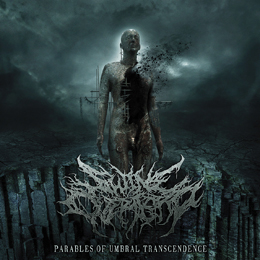 Album Title:
Parables Of Umbral Transcendence
Back in December 2011, guitarist/ bassist Will Peplinski (see also Omnipresent, Reeferhead, Necrosectomy, Clitoral Putrescence and Breast Ripper) and a close friend of his started a novelty band project under the name Malignant Abomination. It however soon turned into something more serious, and becoming Will's solo project, was renamed Hypoxid. He recorded two tracks, and then changed the monicker a last time to Swine Overlord, recruiting Devin Alford (of Impending Pestilence) as singer and drummer.
The duo swiftly went into the writing of a set of slamming Brutal Death Metal tracks, and some demo songs of theirs were played on the online Heavy Metal radio station Brutal Existence Radio, giving the band its first exposure, and resulting in the foundation of a fanbase, which eagerly swiped up the band's 3-track demo tape, released in the Fall of 2012. On Halloween of the same year, the band released its first EP Anthologies Of Abomination (containing the 3 demo tracks as well as 2 new songs). Working together with bands such as Gutfucked, Habitual Defilement and Goemagot, the duo then started making a strong name for itself in the Brutal Death Metal Underground scene, and eventually signed onto Gore House Productions, which gave the band's EP an official release in July of 2013.
In January of 2014, the band expanded its line-up with the recruitment of vocalist Anthony Davis of Gutfucked (also known from Your Last Memory, Chokehold, Necrosectomy and Exophagy), and the band continued work on their debut album (now under our attention)...which was released in August of last, garnering positive reviews all over the board, the band being hailed as "a fresh wind in a genre that has become so generic". I'm not sure how to react to that. The album, which features guest appearances of Josh Smith (also of Gutfucked), Mike O'Hara (of Splattered Entrails), and Hunter Pate & Richard "Yeti" Kirk (of Abdicate) has a total of 13 tracks (one of which a very nice instrumental with surprisingly calm opening and ending) for a playing time of just over 42 minutes, and as far as I'm concerned, it's almost like as if the clock were turned back just over 20 years, with Florida's Death Metal scene at the top of its highs. Sure, the tempo varies from track to track, going from slow and brooding to maniacal blasts of crazy riffs. And there's definitely a flavouring of Gore in the whole (not in the least through the vocal delivery which, on the one hand, is deep grunts and growls, but on the other hand also includes some higher squeals of pig-like unhappiness – I'm not sure if I phrased that correctly), giving it a Grind connotation (that, and the fact that plenty of the bands cited as influences also come from that side of the music spectrum, hahah!)! Anyway...there's a couple of songs for you to listen to at (www.) facebook.com/SwineOverlord...but that ain't the end of this story!
You see, in October of last, the young drummer Bryan Mowers was inducted into the band's line-up, and introduced to some pre-production material that the guys had already been working on. Since then, the quartet have been working on the new material, but in December of last they parted ways with Davis for as yet undisclosed reasons. The sophomore album is set for a release sometime later this year.