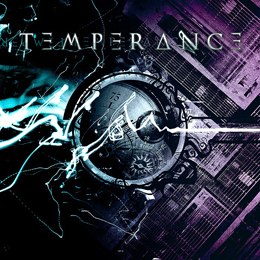 Although this Modern Heavy Metal was founded only last year, its individual members can already boast experiences in the Italian scene going back a decade. So, let us check what these dudes (and lady) have been up to in the past, shall we?
For starters, female singer Chiara Tricario, who's started her career in the bands RavenWord and Lust For Oblivion. Possibly the veteran in the band, is guitarist/ backing singer Marco Pastorini, whom can count tenures with Timesword, Shining Fury, Ivory, HateTyler and Bejelit on his resumé, and whom is apparently also still active in The Ritual, Secret Sphere, and Light Emitter Death. Not far behind, as far as experiences are concerned, is drummer (and keyboardist!?) Giulio Capone, whom in the past handled the sticks for Pandaemonium, Drakkar and Bejelit (a first cross-reference, there!) and is currently apparently also active with Wild Steel, Betoken, and 5th Element. His brother Sandro, the second guitarist, is also a former Bejelit member (and that's the second cross-reference), and so it bassist Liuk Abbott (whom is currently also active in The Ritual; which brings a cross-reference of a different type as before). Together and apart, these people have in the past worked with and supported live acts such as Rhapsody Of Fire, Dragonforce, Parkway Drive, Leave's Eyes, and Rage, played shows on some of the most important festivals, and, strictly taken, one might assume that the former Bejelit musicians went for a new lead singer in Chiara, and subsequently re-named themselves.
At any rate, the band members apparently believe in forging iron when it's hot, because the band was actually only formed in late December of 2013, and to get this album ready for a mid-April release, they must've jumped into the studio within the first weeks of January, following a couple of weeks of constant rehearsals. On the other hand, most probably the music was already available and rehearsed in advance, prior to Chiara's joining the fold? What with renowned musician/ producer Simone Mularoni (of DGM) taking care of the mixing and mastering of the material recorded at the San Marino based Domination Studio, you get a crystal-clear sound in which all elements are clearly discernable.
With the keyboard parts being such an important element in the whole, I kinda wondered whether this would be just a studio project, but the band has actually been playing shows since April 5th of last (with a short N-Italian tour coming up in September). So, I guess either an additional keyboardist was engaged to perform the atmospheric passages during those moments when the drummer is too busy using all of his limbs on his main instrument, or the band decided to hit the road with most of those keyboards pre-recorded and simply needing activation with foot pedals (as seen before in other bands). At any rate, the band stands to create quite a buzz in its homeland, where the Metal fans simply swoon on this type of hybridization of heavy guitar riffs with enchanting (keyboard) melodies. The mixed vocals (because the male backing singer occasionally comes to the fore as well, and he's occasionally backed by one of his male co-musicians, by the way) will do well as well, and I guess one might expect this new Italian outfit to be invited to some of the early 2014 festivals pretty soon! Described as "an amazing mixture of tight, heavy guitar riffs, electronics and Folk elements, bounded together in the name of melody and power", the band's music is certain to make a mark!
The band hàs its own website, where you will find the official video for the track "Breathe" posted at the home page, but for additional material off the album, you'll have to surf to (www.) facebook.com/temperance, where the band posted music for "To Be With You" and an additional video for "A Thousand Years" (a Christina Perry cover nót found on the album). For the greedy: I guess you might check out the album's page at one of the trusted online sales sites (such as Amazon, iTunes, and others of that ilk), as they usually provide 30-second samples of all tracks. And then, of course, there's sites such as Spotify, where music lovers can listen to complete albums (when posted) for a fee!