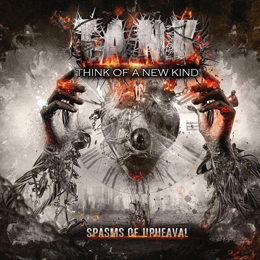 The first thing I read when unpacking this cd was TANK. Alright a new record of the beloved British band is nice present. When taking a closer look to the artwork it appealed to be a bit strange for a band like them, so maybe a band with the same name?  Nope, when taking a look to the side of the cd, there it stood: Think of A New Kind… ToANK… ok, mystery solved then, let's hear what ToANK has to offer!
So, although I was a bit disappointed it wasn't Tank, the music ToANK created attracted me as well. A blend of melodic death metal and core, well produced and with enough variation to stay interested, blasted through the stereo. There's even a doominfluence thatcan't be denied.
Digging a little deeper into the bands history I learned the band is French and Spasms of Upheaval is their second full length. During later spinning's songs like "The Ravens Cry", "Slumber" and "Inhaled" always made me look up and check out the their title, which is always a good sign.
With Spasms of Upheaval, the band created a fine record, showing once more the French scene has to offer a lot of quality still to be discovered. Let's hope they can come over to support this one and are able to perform on the same level they've written this record.