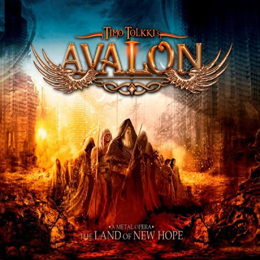 Since Timo Tolkki's and Stratovarius ways went in another direction in 2008, both parties have not stood still.  Stratovarius released the 'Polaris' album, while Timo joined forces with André Matos to form Symfonia, who released only one album 'In Paradisum'.  Rumours came and went that Timo would quit the music business, but lucky for us he's not done that, cause this new project Avalon, has released a masterpiece with this first album.
Ok, I admit, it's a sort of rock opera, with a non too original subject, namely an almost destroyed planet eath and its last survivors, searching for a sacred place called 'The Land Of New Hope', but so what ?
Fact is that by surrounding him with some very famous names, e.g.  Michael Kiske, Rob Rock, Russel Allen, Sharon Den Adel, Tony Kakko, Derek Sherininan... and the list goes on, he's gathered the fine fleur of the actual Music scene, and that can be heard on this album. This album is much better than Timo's former work with Symfonia.  It's true that this album brings us nothing new, but far worse albums have already been released so far.  And while Tobias Sammet made some comments when hearing Timo would be releasing a rock opera, he needs not to fear.  As a matter of fact this is more an album with guest performances by different singers, than a real rock opera, in so far that for instance there are no duets on this album.
But, each and every vocalist on this album has delivered an extraordinary performance, especially Michael Kiske and Russel Allen, but the others also did a very decent job.
This might not be the best album of the year, but I'll rank it high in my 'best of 2013' list.