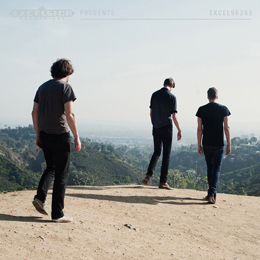 Album Title:
I Don't Understand Them At All
Since releasing their debut album, early last year (review by yours truly posted 07/04/2013), this Dutch Retro Rock trio played at January 2013's Noorderslag festival, and went out to the US in March to do a tour over there (including performances at the renowned SXSW festival in Austin, Texas). While in California, they released the cassette album Down In The City through the local Burger Records imprint (who kept the distribution of the tape to their area only). During Summer 2013 the guys were on an extensive Dutch tour, which also found the guys perform at such nice festivals as Best Kept Secret, Waterpop, Into the Great Wide Open, Metropolis and Lowlands. Eventually, the band also went back to the States for a showcase at New York's CMJ festival.
Then, time came to start thinking up some new tunes, which marked be a step forward for the band composition-wise, as the trio (which as you remember consists of two guitarists and a drummer – the latter playing on a simplified drum set, with just a floor tom, a snare drum, and a crash set...which gives he band its light and very recognizable sound) went rather for melody in their songs. Lyrically, the texts are said to come from the darker sides of lead singer/ guitarist Mark Lada's mind, dealing with alienation, loneliness, and despair. It's a more personal album than the debut, which the band recorded in just a week, and which has been getting the guys nothing but positive reviews from their own country's media. Abroad, that album found a song like "Down in The City" being picked up by Pitchfork and Noisey, and being elected as "one of 2013's" best by the Huffington Post.
But that was then, and this is now. People having read my review of the debut album may have gathered that traumahelikopter's debut album (and the bandname is to be written with a small "t", apparently) did nt especially move me to ecstatic reactions...and I guess I'll have to admit that the sophomore release doesn't exactly have me jumpin' up 'n' down either. It's music I can certainly listen to, which I woun't be annoyed with when being played at a friend's place, but which I'm not gonna put on in my own house on any other occasion as when I've had to prepare for this review, you know! Of course, you're entitled to your own opinion, and if basic Rock is to your liking, then by all means dó get acquainted with the band. For an introduction to the band' latest outing, go to the main page of (www.) facebook.com/trmhlkptr. Scrolling down the page, you'll get the possibility to view a video for the track "Last Night I Dreamed I Killed Myself", and two live videos for the track "Alone", which was the first song off the album to hit the (radio) airwaves in Holland.