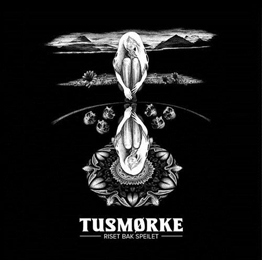 Even without the label telling us so (in the info sheet accompanying the promo download of the album), one would realize that Norway's Oslo-based Tusmörke (Norwegian for "twilight") is somewhat of an oddity, especially when listening to the band's music after having been apprised of the fact that they do not have a guitarist among them! The band's history also has an odd twist to it, by the way!
In the mid '90s, the identical twins Benediktator (bass) and Krizla (flute) Momrak founded the band Les Fleurs Du Mal, with a line-up which would also include later Wobbler singer Andreas Prestmo. Taking influences from the likes of Gong and Caravan, but also from Krautrock giants as Amon Düül (in both its incarnations) and Can, as well as from Acid-leaning Folksters Incredible String Band and a healthy dose of Nordic Folk music, the band the stage with several upcoming Norwegian acts, and eventually morphed into Tusmörke, the music of which was darker, more intense, and more primeaval than its predecessor. Tusmörke eventually recorded and released a demo in 1997, but soon after the Momrak brothers put the band on an hiatus.
They returned in 2009 with a full electric line-up, and a somewhat theatrical setup on stage, with the band members geared up clothes as one might norsemen to have worn around the year 800 AC. Funny detail: the identical twins differ quite a bit in appearance, as Krizla has a full-grown beard, and Benediktator is clean-shaven! Following the necessary time to re-introduce themselves within the Scandinavian scene, Tusmörke eventually teamed up with Finnish label Svart Records, releasing their debut full-length album Underjordisk Tusmörke in 2012. So now, with little other info to go on to continue this band's saga, I'll give you an excerpt of the info sheet I mentioned earlier : "...may 2014 sees the dark minstrels return with a sophomore album Riset Bak Speilet ("the birch behind the looking glass"). A 50-minute transmission from the heart of the darkest northern forests, the album skillfully channels the spirit of classic British Acid Folk Rock and soaks it in a black witch's cauldron. The spellbinding concoction is at times reminiscent of classic acts like Jethro Tull and Incredibe String Band, and also not far off from modern forest magicians such as Hexvessel and Wolf People..."!
Comments : turning "50-minute" into almost 46 and a half is closer to the truth; the band's occasional sounding like Jethro Tull is induced only by the use of flute, as vocally Tusmörke obviously are different (in the first place they do not emulate Ian Anderson's rather typical vocal signature, and secondly, there's a lot of vocal harmonics here, which you would not find in Tull's music); I cannot comment on the semblance of Tusmörke's music to either of the other bands, but the musical conconction is definitely spellbinding, especially when one considers that there's NO guitarist in the band. Would they be using guests perhaps, one wonders...or would those typical guitar sounds be generated by the keyboardist? It's all very intriguing indeed...and on top of that, the band plays around with changing tempos and intensities, all the while managing to keep their music spellbinding throughout. The guys also play around with language somewhat, singing only the album opener "Offerpresten" and the album closing title track in their own language, while doin' the other three in English! Only 5 songs? Yes, indeed, and it means that 4 of 'em are between 7 ½ and 8 ½ minutes in length, whereas the title track is expanded to just over 14 minutes. And still, in spite of those track lengths, the listener will not complain about getting bored with the offering as, as I've stated before, the musicians bring quite some diversity within each song, and also manage to bring in different influences in the songs individually! I'd like to end this paragraph with the closing words from that same info sheet : "Time is an illusion when the music of Tusmörke is played : it ceases to exist. The listener loses her grip, our knowledge no longer stems from social media or printed newspapers : everything the modern world has made us believe, evaporates. Our ears grow into cones, blood runs thin," and a last comment nevertheless, would be that although time obviously cannot be turned back in real life, it can be in our minds...certainly with this band's music aiding us!
For some music by the band, consult (www) soundcloud.com/tusmorke, or check out the "Music" section at the band's facebook page (where you'll find out that the band has already moved on ahead a bit further where releases are concerned, first releasing the download-only Den Iternasjonale Bronsealderen EP in May (with the new songs "Kairo" and "En Verden Av I Gar") which was issued on limited edition 12-inch vinyl on June 20th, when also a limited edition 7-inch with the songs "Salomonsens Hage" and "Singers & Swallows" was re-issued (apparently, it was the band's debut single after their return to the scene in 2009...hum, perhaps the 12-inch goes back that far also?). Meanwhile, Krizla also started a solo project, and a cassette has already been recorded. You can listen to a track from his debut concert at the timeline of Tusmörke's facebook page (posted 15/06 of last), and at that same space you'll also find the official music video for Riset  Bak Speilet's opening track "Offerpresten" (posted 6/06), which will give you a link to YouTube, where you'll find more material by the band.
Great stuff, this, and the only reason why the album is not catapulted into my year-lists, is because I wanna find out more about those moments when I'm made to believe that NO guitar is actually involved in the band's sound.