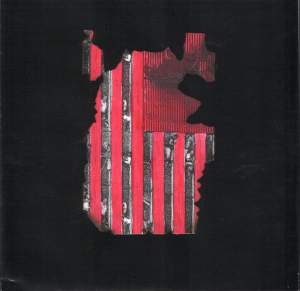 (actual release date: 2007)
A while ago, I did receive a package with new and older material from Drone Records and side-labels Substantia Innominata and Transgredient Records. Several of them have been reviewed in the meantime, yet there are some prehistoric releases that did not get my attention yet. No, they did, of course, more than once, caressing my eardrums, but I meant 'attention' in combination with Concreteweb. And since this stuff is truly excellent, I do not mind writing down some thoughts on these releases. As said, you can already find several ones on this webzine, and some more will come up, even though they are quite 'ancient' – yet never too late to be promoted! Here's another one, dealing with Premonition 9/11 by Ure Thrall…
Ure Thrall used to be quite a productive outfit by Greg Logsdon, who was also active in acts like, for example, Cruor, Asianova, Shauerroman, Knight Shade, Twin Blades, Nocturne etc., often in conspiracy with same-minded musicians like Pamela Passmore, Jim Wilson or Bonnie McNairn, amongst others. During the nineties and 2000's, Ure Thrall came up with several hands full of interesting releases, mainly via Greg's home label Discorporeality Recordings (especially in the early years). This review deals with one of the few releases not available exclusively on Discorporeality Recordings but being released on Drone Records – and seen my first paragraph, you got the picture, I think.
Premonition 9/11 is a two-track vinyl single, initially released in 2003 and re-issued in 2007. And just for your information: the title track from this 7" EP did appear as well on the (great) full length Arabian Knightmares, released in 2004 via, of course, Discorporeality Recordings (and re-released via Tesco Organisation in 2006). The re-pressing came in an edition of 300 physical copies. Both pieces were created in 2002 and conceived / recorded / produced by the mastermind himself, here known as U-R-I.
The cover artwork is based on a close-up for both a decayed Stars-And-Stripes flag and a fragment one of both Twin Towers, shortly before the collapse. The colour setting is as depressing as it is apocalyptic, expressing anger, anxiety and discomfort. The back side is even more confronting, showing the dead body of… Well, it is a vision of the absurdity of religious and political supremacy, and the tendency to overpower other-thinking minds. This is the saddest result…
Anyway… Side 1 brings the title track, Premonition 9/11, which is dedicated to all souls all over the worlds that did suffer and die in (useless) wars. It got created with some session assistance, including traditional Arab-influenced instrumentation, like rhaita, tribal percussion and Oriental chants. The track is one that builds up, slowly yet convincingly, being based on energetic percussion patterns and eerie e-bowed guitar and digital sampling, injected with fragments from that sad day in September 2001. It's an oppressive mixture of Drone, Middle Eastern Folklore Music, Ambient and Industrial, and for some reason is it both mesmerizing and meditative / levitating. It does last for 8 minutes +, but getting rid of the concept, it is intriguing and somehow erotic, seen the energetic rhythm and exotic melodies.
The B-side offers the audience the track The Traveller, which was completely done by Ure Thrall himself (e-bowed guitars, sampling, synths, sequencer). Dedicated to all those restless souls, this B-side piece sort of continues the sonic essence of the title track, in the beginning with some more experimentalism. The Traveller is less ritual than the composition on the A-side, but comes with a more complex theme. Multi-layered instrumental melodies and crackling noises and processed samples are mixed unto an epic that seeks, and finds, a hugely contrasting core: a haunting and asphyxiating grief versus a hint of new-born elegance. I know that it might be bizarre to comprehend, but when listening to this piece, and dissecting the several levels, one might notice that eccentric equilibrium in between an apocalyptic view and the struggle to survive.
This two-track EP is a dark cinematic experience with a clear message, still available via Germany's finest Drone Records. it is an open-minded aural journey, representing a personal, and even emotional, view on modern themes (I'd rather call it: the sickness of our era), translated via two intriguing compositions (both of them clocking over eight minutes, by the ay). Recommended!