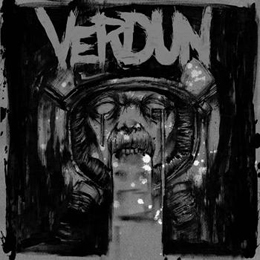 Album Title:
The Cosmic Escape Of Admiral Masuka
Release Date:
Monday, February 25, 2013
Some bands can be so obscure, there's hardly any info to be found on 'em on the Internet. Here's another case. According to Wikipedia, (the "band") Verdun can relate to 1) a female-fronted Rouen (France) based Punk band which existed from 1981 to 1992, 2) a weirdly dissonant Rock act (no home town mentioned) comprised of drummer Mike Stetina, guitarist/ keyboardist/ main composer/ extra vocalist and band founder Neal Barnard (a doctor whom heads the Physician's committee for Responsible Medicine, and also a founding member of Jazz Fusion band Pop Maru), and female singers Martha Roebuck (of Neo-Blues act Falstaff) and Ngoc Hoang (daughter of '60s movie director Hoang Vinh Loc – see Year Of The Tiger), and 3) a one-man depressive Black Metal project from Sweden...but none of these relate to this band from the South of France (Montpellier).
Oh crap...I suddenly got the bright idea to enter "Verdun Montpellier" in the google browser, and there I suddenly find a MySpace page, and on it a link to (www.) verduntheband.tumblr.com and to the band's facebook. So... now I can tell you that the the band started somewhere in 2010 (started their facebook page in September of that year). Their current-line-up comprises lead singer/ keyboardist (uses a theremin) David Sadok, guitarist Mathieu Croux, guitarist/ harmonium player (I'm guessing what is meant here is the keyboard) Christophe Doux, bassist Florian Celdran, and drummer Géraud Jonquet. The only line-up change which occurred, is when guitarist Aurélien Dumont was replaced.
With influences ranging from Black Sabbath, Pentagram, Pagan Altar, The 13th Floor Elevator, Saint Vitus (hum...do I see a Doom Metal theme there?) to Joy Division (euh...?), the band's Doomcore music is nevertheless not that easy to typify, laying somewhere in the netherworld of slowed-down and darkened Hardcore (the vocal styling's), and a somewhat minimalistic yet quite effective Sludge/ Doom which is not devoid of some small complexities. Evidently, that means elongated tracks, and on the band's debut EP, the shortest song is a mere 7 ½ minutes (the longer one lasting a little over 5 minutes longer). For a "mere" EP, the album nevertheless lasts 32 minutes, which is longer than some band's full-lengths (let's not start making a list!). You can enjoy all 3 tracks at (http://) verdun.bandcamp.com, and also put in your order. Vinyl lovers, hurry up, because there's also a limited amount of LP's to be had (just recently released through Head Records and Lost Pilgrims Records. The Belgian, or rather the Benelux version, I'm afraid, is only a CD, but perhaps you can inform yourself at [email protected] mandai.be for the possibility of vinyl?
Great stuff, this, and a warm addition to my 2012 year-lists!