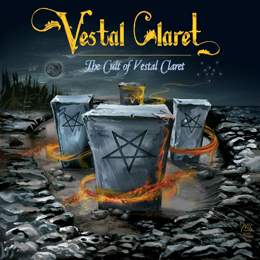 Album Title:
The Cult of Vestal Claret
Line up :
Philip Swanson – Vocals
Simon Tuozzoli – Bass, Guitar, Organ, Additional Voice
Michael Petrucci - Drums
Vestal Claret are an occult heavy metal act that certainly love mixing doom and the occult together in a rather ominous package, which ultimately equals out to a rather promising listening experience. The band includes Phil Swanson of Hour Of 13 and Seamount fame on vocals, while Simon Tuozzoli handles bass, guitar, organ, and some additional vocal work. His riffs seem to compliment Phil's vocal styling quite well, and although a bit nasally it certainly works for the material and gives us that kind of classic doom feel. But this isn't just a Sabbath tribute band like you might be expecting. There are most certainly riff melodies on this record that don't even sound like they would come from Sabbath and that's where the disc proves its mirth. Additionally there's the use of sixties progressive elements on the album, which certainly help the disc's heavier portions to come off blazing. Thunder erupts right at the start of this thing, as prog and power collide on "Never Say No Again" as "Three And Three Are Six" brings us a little bit of groove and blues, which certainly give off a "hippie jam" vibe to the track. But there's not a damn thing wrong with that in my opinion and just because the lyrical matter is steeped in the dark doesn't mean that you can't get down and jam with these guys. The album's title track shows definite folk influence as it thunders forth like many of the others on here. If you're looking for thunder, then these guys definitely know how to bring it. CD exclusive track "Great Goat God" almost sounds like it has some punk influence with the garage style drum efforts, but that eventually goes into something that reminds me definitely of a dark-tinged seventies freak out. All I need now is the LSD. When Phil starts up with the vocal line, it's like a wave of great memories flash by – you're reminded of those first few Sabbath records, especially the debut where the band even swore that some occult happenings were going on in the studio during its recording (true story!)
As we get to the middle of the disc, we enter a much different style from these guys in the form of "The Demon And The Deceiver" which incorporates a rather morbid acoustic tone, backed with a more melancholic vocal approach. It's quite eerie, yet comforting at the same time. It's the kind of thing that will bring chills down your spine, but you'll keep coming back for more. Many bands utilize acoustic ballads, but this one could very well be the anti-ballad in all of its immeasurable gloom. "Piece Of Meat" is sure to piss off the feminists and feministas out there, with its well-crafted tale of a virgin sacrifice. The call for "stringing her up by the rafters" probably won't help matters any either. Yet after this comes the band's finest moment in "Black Priest" which carries a fair deal of weight within it's nearly seventeen minutes of dark majesty. The first time I heard this song on the split from Albatross, I was floored and that same feeling has once again been communicated on this re-recording. I might also mention that the four songs the band did on a split with Ungod (some I have already mentioned in this review) have also been re-recorded here. A Black Sabbath cover of "Who Are You" is also included, to a shimmering degree. Psychedelic keyboards and fuzzy riffs work well with Phil's vocal touch here. It really seems like he's trying to emulate Ozzy, yet still trying to keep some of his own vocal mystique in the process. It's a good cover that you'll find on the CD version of this release. The vinyl also contains an exclusive in "So Mote It Be" which I was not given the chance to hear, so grab that version of the disc if you want to check it out. The disc ends with "The Stranger" which is a fiery number about a man who abducts and murders a woman. Certainly these guys get inspiration from current events, which seem to make their lyrics a combination of both the occult and social commentary.
If you're looking for a powerful doom release from a bunch of guys who don't even realize that core, djent and modern metal exist; then pick up The Cult Of Vestal Claret today. It's not just a blast from the past, but a good sign of things to come. There's no doubt in my mind that Cruz Del Sur have once again struck gold with these guys. You'll be humming these tunes for weeks.
TRACKLIST
CD TRACKLIST (PROMO)
Never Say No Again
Three and Three Are Six
The Cult of the Vestal Claret
Great Goat God
The Demon and the Deceiver
Piece of Meat
Black Priest
Who Are You
The Stranger
LP TRACKLIST
Never Say No Again
Three and Three Are Six
The Cult of the Vestal Claret
The Stranger
So Mote it Be
Black Priest