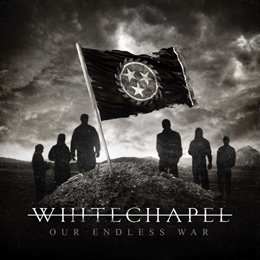 Whitechapel is a death metal outfit from Knoxville, Tennessee. The band formed somewhere in 2006, and have released 4 albums and been on the road touring non-stop delivering their pummeling brand of metal across the globe. The group comprises vocalist Phil Bozeman, guitarists Ben Savage, Alex Wade, Zach Householder, bassist Gabe Crisp and drummer Ben Harclerode.
Their music can best be described as technical deathcore, lots breakdowns and low guttural vocals. Besides from that, it's just ridiculously loud and heavy (but in a good way)
And it paid of. Not only are they rather successful and loved around the world in the metal scene, they keep making fans.
I have to admit and apologies, this is my first album from these lads and it blew me away in every way possible. This resulted in a third time listening to it in a row (yes this record is THAT good). I'm not even going to try and explain myself. Just get your Asses to your local metalstore and get this album ASAP. End of discussion.