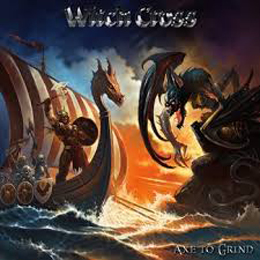 It seems that the bands from the Eighties seem to awaken from their long slumber one after one to come back, Torch, Warlord, Picture, Ostrogoth, Vortex, Holocaust, endless list and right now Danish heavy metal band Witch Cross . And as next to nobody has ever heard of them, let me take a little look into the past of them, too.
Witch Cross was originally founded back in 1980 in the Danish city Hillerød by vocalist Alex Savage (aka Alex Nyborg Madsen) , Mike Wlad Koch and Thomas Stoney on guitars, Jan"Little John" Field on bass and Anders "A.C". on drums. The band recorded and released their first single "NoAngel/Are You There" in 1982 and received a lot of good press from the release. After the 1 st single Thomas Stoney left Witch Cross and Cole Hamilton joined WC then started writing and recording their debut full length album Fit for Fight which was produced by danish guitarist Ivan Horn ( who had produced the bands first single) and engineered by Niels Erik Lund who worked with Mercyful Fate and King Diamond at the legendary Easy Sound Studio in Copenhague. AC left the band shortly after the release of the debut Fit for Fight and Lars (Tony Adams) Bjornstad became the new drummer. Witch Cross toured mainly in Skandinavia but in 1985 the band went on a Dutch German tour and were captured live on video at the famous rock club Dynamo in Holland. After the tour Cole Hamilton left the band and were replaced by Rene Rieland on guitar. The band Witch Cross existed up until 1986 with changing line-ups though Jan "Little" John Field was the only original member. Now the band are back with a new line up including original members Mike Wlad and Jan Little John Fields.
I do not know anything of their older material, so I cannot say, where the new material stands compared to it, but if it had been as good back then, then I guess I need to check them out for sure, because what these four guys deliver on Axe To Grind is good, very good indeed! Sure, if you like it modern or rough, forget about it, but if you can appreciate very well crafted Heavy/Power Metal with a voice that is similar to Biff Byford and where the music also features some Maiden vs Accept vs Priest-influences that are common in this genre, then you have come to the right place with Witch Cross.