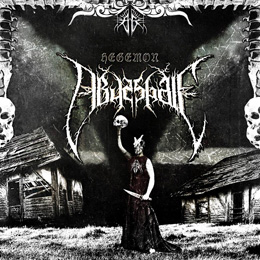 Greek outfit Abyssgale finally seem to crawl out of the depths of the Netherworlds. They were created ten years ago, and they recorded / released an EP, called The Coming Plague, in 2006. Then several changes in line-up followed throughout the next years. And, which is an important element to mention, Abyssgale were able to perform live on stage with great acts such as Rotting Christ, Impaled Nazarene, Aura Noir and Necros Christos; impressing it is, not?! In early Spring 2008, the band started recording stuff they wrote for the Hegemon-album, but more line-up changes caused a certain delay. And then, finally, in February 2014, Razorbleed Productions released the Hegemon-album on cassette, though this being extremely limited to an edition of 150 copies only. In Autumn 2014, Abyssgale signed to Immortal Frost Productions' roster (a fabulous Belgian label owned by Ars Veneficium's S.), which will release this material on CD, and this in an edition of 500 copies.
This self-produced album was recorded at 210 Studio with assistance of sound engineer Stamos Koliousis, who did some studio work before for bands like Profane Prayer, Iskald, Sturmgeist, Luna Obscura, Thy Darkened Shade and many more. It has a total running time of forty minutes and comes with, what I think, is very nice artwork (by VisionBlack): very obscure and ominous.
The album then… No bullshit, as from opening track Execution Litany, Abyssgale storm forward, smashing and thrashing. Actually, because of the epic melody lines, this band rather sounds like a Norwegian or Swedish one than a Greek outfit; even the sound accompanies my thoughts to dimensions of Nordic supremacy, being raw, unpolished and sharp-edged.
In general, these Greeks are not here to reinvent the scene. On the contrary, there is nothing modernistic or renewing within this execution. But you know, when the result is at least as impressive as the original, it is forgiven. This quartet easily takes the best elements from the Nineties, to make their own interpretation of it. It means lots of changes in tempo, for example. The better part is fast and energetic, filled with hatred and disgust, but more than once, the speed decelerates, bringing a cool equilibrium in between the different chapters. I also appreciate the fine balance in between thrashy grimness and heroic melody. And another superb contrast is the highly technical performance versus the primal, sometimes even barbaric riffing and rhythm section.
The interplay of these guys is of a convincing level. All right, the fine mix has a lot to do with it, yet still. None of the instruments overrules the others, and none is inferior either. The throat-cutting, buzzing guitar play is, besides done the finest way, pretty much at the foreground when needed, but at the same time it's almost emotional to notice the perfect interaction with, for instance the icy and raspy vocals and loud drums (it was, by the way, a sad thing to read that drummer Maelstrom left, for what he did on Hegemon was top).
FYI: this album got released via Immortal Frost at the same day as Antiqua Ignis, the new Skygge full length. The review on that piece was updated on March 26th 2015.