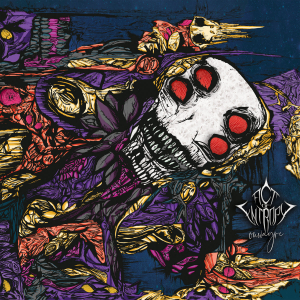 Release Date:
Saturday, February 26, 2022
There might be structure in chaos, continuity in disorder, regularity in anarchy. I'm not just referring to astrophysical or empirical laws within science; I am referring as well to the creative blasts constituted under the banner of Act Of Entropy. A word of explanation might be apposite…
A (short) while ago, I got in touch with a certain Pan, a human soul with an enormous dedication for extreme and often bizarre Underground-oriented Sonic Supremacy. This person does promote 'the scene' as much as he can – sometimes I do think he has too much time, seen his permanent activities on the web. We need more of them!
What's more, I guess he doesn't even sleep, because Pan is also active as 'musician' (a lapsus for sure, but I'll come back to this immediately). Together with his partner Eri, Pan Inentropy performs under the moniker of Act Of Entropy. As from the end of the former decade, Act Of Entropy did create and record some remarkable, yet deeply frenzy efforts (you can find a link for the review on Abyssal Esurience below, if interested), showing a totally chaotic, apocalyptic, ruined and discordant approach of Aural Art. Being 'the centipede under the Bark of the Tree' (I admit: I did steal this quote from this project's biography), they do perform (and this comes from the very same source) 'Avantgarde Black Metal meets Avantgarde Jazz that freely infests itself with dripping psychedelic Noise and parallaxial deathened undulations'. True…
At the very end of Autumn 2021, Act Of Entropy did independently release their newest / latest effort called Ouwayre. It was (and still is, of course) another collection of highly experimental yet professionally executed 'songs' (yeah, whatever), overruling the limitations of any genre. I did have a review prepared on that EP, but then I received some fine news about the matter: the result would get a physical release, with inclusion of some bonus material. And that's what I will focus on right now.
Ouwayre was foreseen to be released digitally on November 24th 2021 and has now been re-issued via the underestimated yet stunning North-American label Vargheist Records. The original EP consisted of four lullabies, but the full-lengthy re-release offers four bonus-tracks as well (!), which actually represents that aforementioned creation from 2020, Abyssal Esurience. This physical re-edition is quite limited (one-hundred copies only) and has been pressed with a 'sober' two-page booklet. It does come with enormously bizarre, psychedelic and outlandish (or better: out'world'ish, even out'space'ish) cover artwork, created by Apothecary's John Rushworth, and eventually 'modded and colored' by Act Of Entropy themselves.
Like before, this album is an enormously frenzy, sick-minded, twisted and experimental one, mingling, indeed, Avantgarde Jazz and (Black) Metal, but it goes further than that for sure. It's like an imaginative, psychedelic, neurotic and nervous mishmash of instrumental disorder and malformation, multi-layered and permanently interspersed by the weirdest and singular additions whatsoever.
Mind-twisting string-rape, psychotic piano devastation, lunatic percussion declination and haywire programming are canalised into a skull-pulverising and brain-squeezing adventure, impetuous and ferocious, yet at the very same time extremely prodigious in execution and taste too. I definitely hear Free Jazz, I hear Mathcore, I hear Noise, I hear Metal, I hear Progressive, I hear a clash of dissimilar sources, channelled into a surreal, post-astrophysical sonorous hazard, yet not coincidentally constructed and deconstructed, yet audibly dismembered and defiled on purpose. Stylistically, Ouwayre is a creation of innovation, of disruption and discontinuity, of musical revolution, which needs endurance, bravery, faith and persuasion to encounter. …a creation of delicacy and elegancy too…
The result is another fascinating and intricate, yet saturated, lurid and perspicacious research through unexplored dimensions of audition and sensation. The album Ouwayre certainly isn't an easy-listening one (at all). I am sure that there isn't but a small audience that will endure this frantic piece. And when talking about this re-issue, consisting of not less than eight, eh, compositions, the eclectic challenge is even more daring and explicit. …or exclusive, if you want to. But a psychic aberrance might assist the listener through this explosive outburst for sure.
https://vargheistrecords.bandcamp.com/album/ouwayre
https://www.vargheistrecords.com/ACT-OF-ENTROPY-Ouwayre-CD-p455261722
https://actofentropy.bandcamp.com/album/ouwayre
https://actofentropy.wixsite.com/actofentropy/releases
https://www.concreteweb.be/reviews/act-entropy